Inspection readiness skills matrix template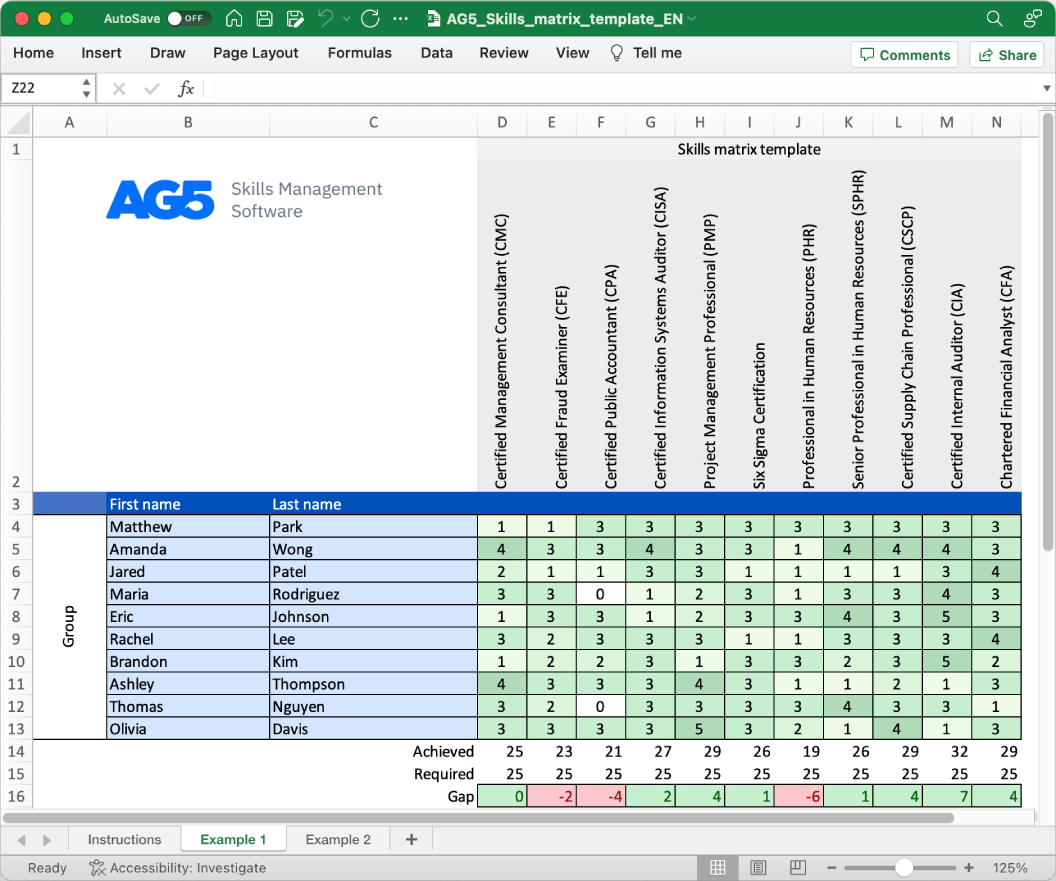 Download your free template here
Overview
With our free inspection readiness skills matrix template, you will receive a clear overview of the skills that are present in your organization, as well as those that are missing. Using this information, you can develop and implement a plan to ensure that your employees' skills are up to date, comprehensive, compliant, and ready for the future.
Certified GxP Compliance Professional
Certified Quality Auditor (CQA)
Certified Regulatory Affairs Professional (RAPS)
Certified Professional in Good Clinical Practice (GCP)
Certified Professional in Medical Device Regulations (RAPS)
Certified Professional in Pharmaceutical GMP (RAPS)
Certified Pharmaceutical GMP Professional (ASQ)
Certified Validation Professional (ISPE)
Certified Clinical Research Associate (CCRA)
Certified Clinical Research Professional (CCRP)
Certified Clinical Quality Auditor (CCQA)
Certified GCP Quality Assurance Auditor (CCRQAA)
Certified GCP Compliance Professional (CCCP)
Certified Good Manufacturing Practices Professional (CGMPP)
Certified Regulatory Compliance Manager (RAPS)
Certified Medical Device Auditor (CMDA)
Certified Supplier Quality Professional (CSQP)
Certified Professional in Healthcare Quality (CPHQ)
Certified Quality Engineer (CQE)
Certified Professional in FDA Regulatory Affairs (RAPS)
Related skills
Regulatory Compliance Knowledge: Understanding the relevant laws, regulations, and guidelines that apply to the specific industry is essential for inspection readiness, demonstrated by the Regulatory Affairs Certification (RAC) from the Regulatory Affairs Professionals Society (RAPS).
Documentation and Record Keeping: Maintaining accurate and complete documentation is critical for inspection readiness. This skill involves organizing and managing documents, standard operating procedures (SOPs), protocols, and other essential records in a systematic and easily retrievable manner, as proven by the Certified Records Manager (CRM) certification from the Institute of Certified Records Managers (ICRM).
Internal Auditing: Conducting regular internal audits helps identify potential compliance issues and areas for improvement before external inspections occur, a skill confirmed by the Certified Internal Auditor (CIA) certification from the Institute of Internal Auditors (IIA).
Quality Management Systems (QMS): A robust QMS ensures that all processes and procedures are well-documented, followed consistently, and continuously improved, a proficiency demonstrated by the ASQ – Certified Manager of Quality/Organizational Excellence (CMQ/OE) certification.
Communication and Training: Effective communication and training are essential skills to ensure that all employees are aware of their roles, responsibilities, and the importance of compliance. Being able to convey compliance-related information clearly and consistently throughout the organization is showcased by the ATD Master Trainer™ program certification from the Association for Talent Development (ATD).
Benefits
Skills management software is important in inspection readiness as it helps ensure personnel possess the necessary qualifications and certifications. It facilitates compliance with regulatory requirements, streamlines resource allocation, and demonstrates competency during inspections.
Ready to master skills management?
Get a personalized walkthrough of AG5 from one of our product experts in just 15 minutes.
ISO27001 certified Free trial available