First aid skills matrix template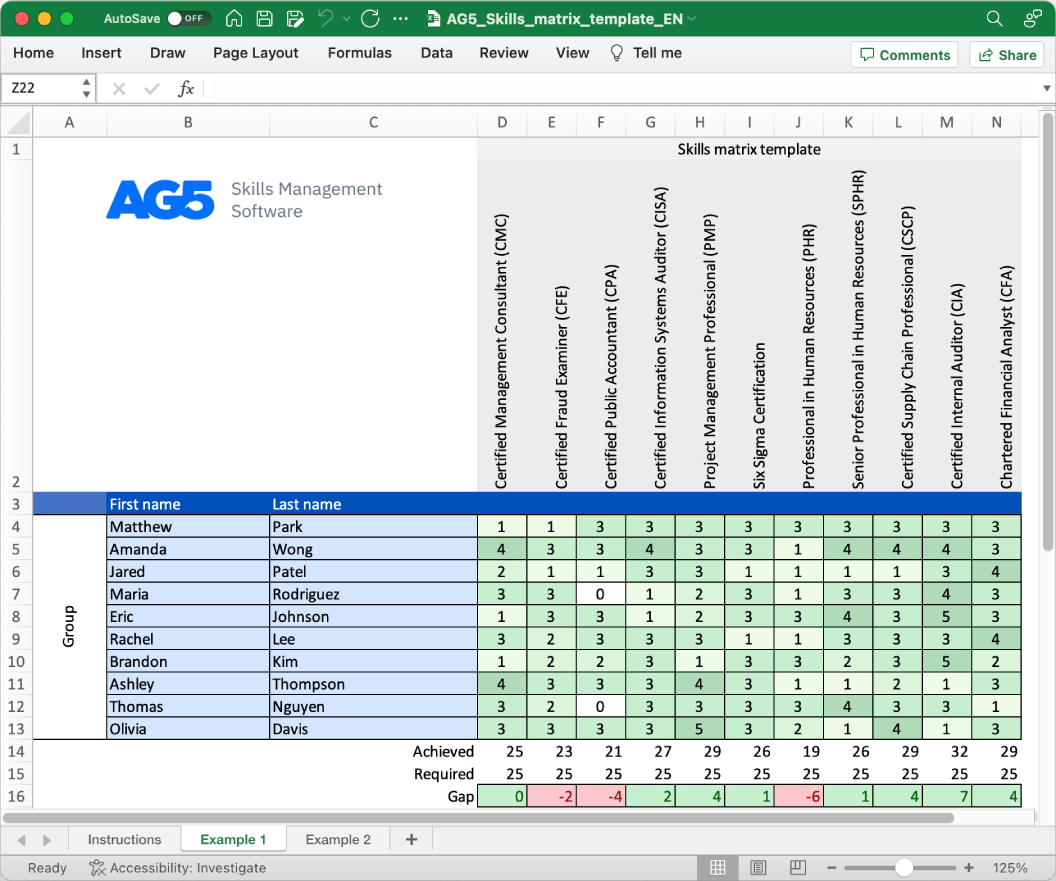 Download your free template here
Overview
With our free first aid skills matrix template, you will receive a clear overview of the skills that are present in your organization, as well as those that are missing. Using this information, you can develop and implement a plan to ensure that your employees' first aid skills are up to date, comprehensive, compliant, and ready for the future.
Certified First Aid Provider
Certified First Aid Responder
Certified First Aid Trainer
Certified First Aid Instructor
Certified First Aid Team Leader
Certified First Aid Coordinator
Certified Wilderness First Responder
Certified Pediatric First Aid Specialist
Certified First Aid for Mental Health Provider
Certified Sports First Aid Provider
Certified Workplace First Aid Administrator
Certified First Aid CPR/AED Provider
Certified First Aid for Schools
Certified Basic Life Support (BLS) Provider
Certified Advanced First Aid Provider
Certified First Aid for Hazardous Environments
Certified First Aid for Remote Locations
Certified First Aid for Construction Sites
Certified First Aid for Occupational Settings
Certified First Aid for Medical Emergencies
Related skills
Basic Life Support (BLS): Proficiency in performing cardiopulmonary resuscitation (CPR), including chest compressions, rescue breaths, and using automated external defibrillators (AED). Certifications such as the BLS Provider Certification from the American Heart Association (AHA) demonstrate competence in basic life support skills.
First Aid Techniques: Knowledge of basic first aid techniques, including wound care, bandaging, splinting, and treating minor injuries and illnesses. Certifications like the Basic First Aid Certification validate proficiency in providing immediate medical assistance.
Medical Emergency Response: Skills in recognizing and responding to various medical emergencies, such as choking, heart attacks, strokes, allergic reactions, and seizures. Certifications like the Emergency Medical Responder (EMR) or Emergency Medical Technician (EMT) demonstrate competence in emergency medical response.
Trauma Assessment: Understanding of trauma assessment principles, including conducting primary and secondary assessments, identifying life-threatening injuries, and providing appropriate first aid interventions. Certifications like the Trauma First Aid Certification validate expertise in trauma assessment and management.
First Aid Communication and Documentation: Ability to communicate effectively during a medical emergency, provide clear instructions to bystanders, and accurately document the incident and the provided first aid. Certifications like the First Aid Communication and Documentation Certification (FACDC) demonstrate proficiency in communication and documentation skills during first aid situations.
Benefits
In first aid, skills management software is crucial for effectively managing the skills and qualifications of personnel trained in providing immediate medical assistance. It helps track certifications in first aid techniques, CPR (Cardiopulmonary Resuscitation), and other life-saving procedures. This ensures prompt and appropriate response in emergency situations, promoting employee safety and well-being.
Ready to master skills management?
Get a personalized walkthrough of AG5 from one of our product experts in just 15 minutes.
ISO27001 certified Free trial available