Consumer electronics skills matrix template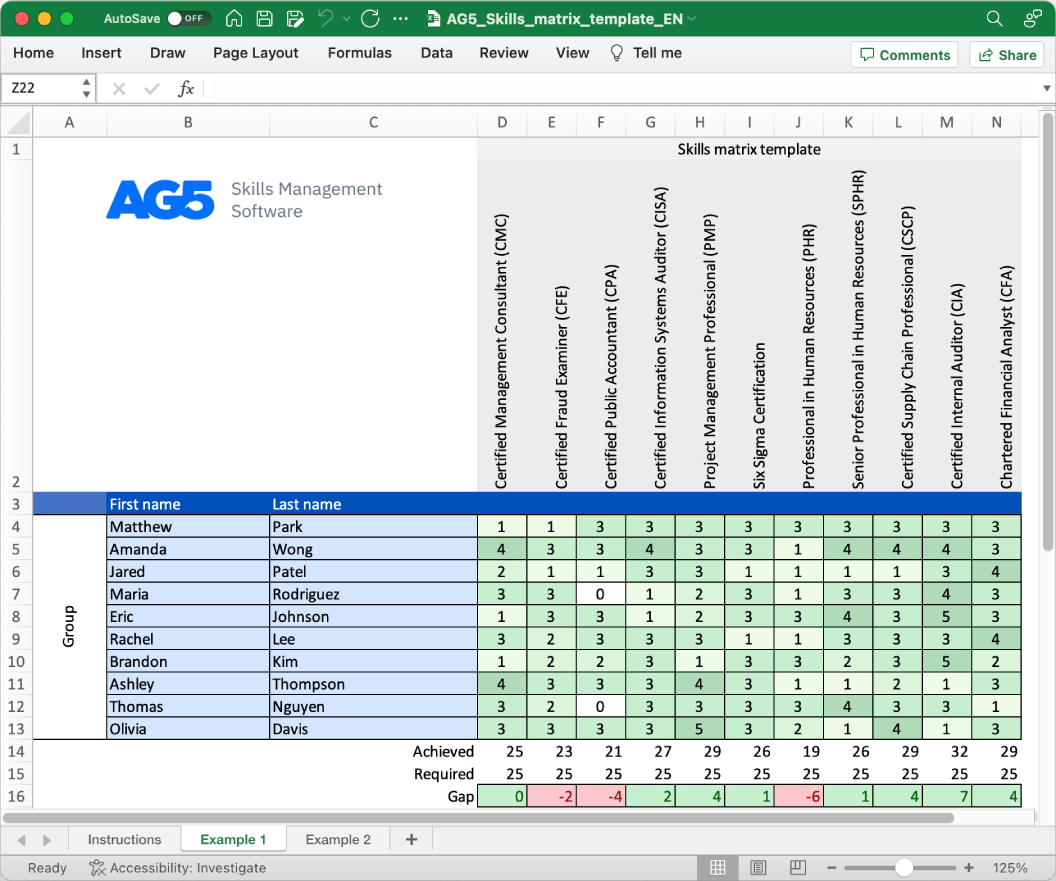 Download your free template here
Overview
With our free consumer electronics skills matrix template, you will receive a clear overview of the skills that are present in your organization, as well as those that are missing. Using this information, you can develop and implement a plan to ensure that your employees' skills are up to date, comprehensive, compliant, and ready for the future.
Certified Electronics Technician (CET)
Certified Broadcast Technologist (CBT)
Certified Audio Engineer (CEA)
Certified Video Engineer (CVE)
Certified Technology Specialist (CTS)
Certified Digital Signage Expert (CDSE)
Certified Home Technology Integrator (CHTI)
Certified Antenna and Satellite Systems (CAS)
Certified Network Systems Technician (CNST)
Certified Wireless Technician (CWT)
Certified Home Theater Installer (CHTI)
Certified Lighting Control Programmer (CLCP)
Certified Structured Cable Installer (CSCI)
Certified Electronics System Integrator (CESI)
Certified Digital Home Technology Professional (CDHTP)
Certified User Experience Designer (CUXD)
Certified Product Manager (CPM)
Certified Quality Engineer (CQE)
Certified Six Sigma Black Belt (CSSBB)
Certified Lean Six Sigma Green Belt (CLSSGB)
Related skills
Technical skills: Technical skills in consumer electronics are essential for designing, manufacturing, and troubleshooting electronic devices. Certifications that can prove technical skills include the Certified Electronics Technician (CET) certification from the Electronics Technicians Association International (ETA-I) and the Certified Electronics Associate (CEA) certification from the Electronics Technicians Association (ETA).
Project management: Project management skills are crucial to ensure that electronic products are developed and delivered on time and within budget. The Project Management Professional (PMP) certification from the Project Management Institute (PMI) can prove project management skills.
Communication skills: Communication skills are essential for collaborating with other team members, customers, and stakeholders. The Certified Professional in Business Communication (CPBC) certification from the Association for Talent Development (ATD) can prove effective communication skills.
Quality control: Quality control skills are important to ensure that electronic products meet the required standards of quality and reliability. The Certified Quality Engineer (CQE) certification from the American Society for Quality (ASQ) can prove quality control skills.
Supply chain management: Supply chain management skills are important for ensuring that electronic products are delivered to customers efficiently and cost-effectively. The Certified Supply Chain Professional (CSCP) certification from the Association for Supply Chain Management (ASCM) can prove supply chain management skills. Additionally, the Certified in Production and Inventory Management (CPIM) certification from ASCM can demonstrate knowledge in production and inventory management.
Benefits
Skills management software can assist the consumer electronics industry by identifying and tracking employee skills, ensuring the workforce is adequately trained, and keeping pace with rapidly evolving technology.
Use AG5 to identify skill gaps
Say goodbye to Excel matrices. Start using AG5's plug and play skill matrix software.
ISO27001 certified Free trial available