Complaint handling skills matrix template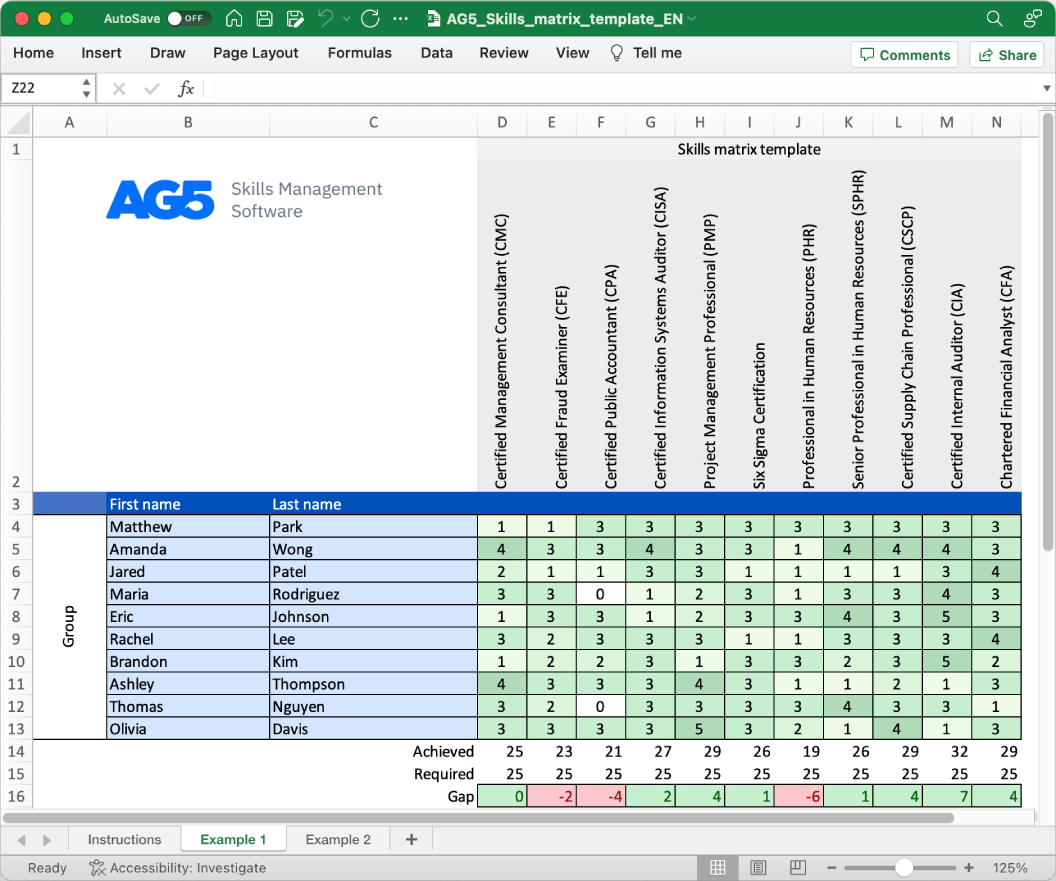 Download your free template here
Overview
With our free complaint handling skills matrix template, you will receive a clear overview of the skills that are present in your organization, as well as those that are missing. Using this information, you can develop and implement a plan to ensure that your employees' skills are up to date, comprehensive, compliant, and ready for the future.
Certified Complaint Handling Professional (CCHP)
Certified Customer Complaint Investigator (CCCI)
Certified Complaint Resolution Specialist (CCRS)
Certified Complaint Analyst (CCA)
Certified Complaint Management Professional (CCMP)
Certified Complaints Auditor (CCA)
Certified Complaints Coordinator (CCC)
Certified Complaints Investigation Manager (CCIM)
Certified Complaints Mediator (CCM)
Certified Complaints Team Leader (CCTL)
Certified Complaints Resolution Supervisor (CCRS)
Certified Complaints Management Consultant (CCMC)
Certified Complaints System Administrator (CCSA)
Certified Complaint Resolution Trainer (CCRT)
Certified Complaints Prevention Specialist (CCPS)
Certified Complaints Process Improvement Practitioner (CCPIP)
Certified Complaint Handling Analyst (CCHA)
Certified Complaints Documentation Specialist (CCDS)
Certified Complaint Resolution Coach (CCRC)
Certified Complaint Handling Executive (CCHE)
Related skills
Customer Service Skills: Demonstrating strong interpersonal skills, active listening, and empathy when handling customer complaints. While there isn't a specific certification solely focused on customer service skills for complaint handling, completing customer service training programs or obtaining certifications like the Customer Service Excellence (CSE) offered by the International Customer Service Association (ICSA) can showcase expertise in this area.
Complaint Resolution and Investigation: Investigating customer complaints, identifying root causes, and implementing corrective actions. The Certified Customer Experience Professional (CCXP) certification by the Customer Experience Professionals Association (CXPA) covers skills related to complaint handling and resolution.
Regulatory Compliance Knowledge: Understanding and ensuring compliance with applicable regulations and standards related to complaint handling, such as FDA regulations for medical device complaints or ISO 9001 for quality management systems. Relevant certifications include the Certified Quality Auditor (CQA) by ASQ or the Certified Manager of Quality/Organizational Excellence (CMQ/OE) by ASQ.
Documentation and Reporting: Properly documenting customer complaints, analyzing trends, and generating reports to drive continuous improvement. Again, while there isn't a certification solely focused on this skill, expertise in documentation and reporting can be demonstrated through relevant experience and knowledge of quality management systems.
Conflict Resolution and Mediation: Resolving conflicts and disputes with customers in a fair and effective manner, aiming for a satisfactory resolution. While there isn't a specific certification solely focused on conflict resolution for complaint handling, professionals can showcase their proficiency through conflict resolution training programs, mediation courses, or certifications in alternative dispute resolution.
Benefits
Skills management software is important in complaint handling as it helps track and assess the skills and knowledge of personnel involved in handling customer complaints, ensuring efficient and effective resolution, customer satisfaction, and compliance with regulatory requirements.
Ready to master skills management?
Get a personalized walkthrough of AG5 from one of our product experts in just 15 minutes.
ISO27001 certified Free trial available