Change implementation skills matrix template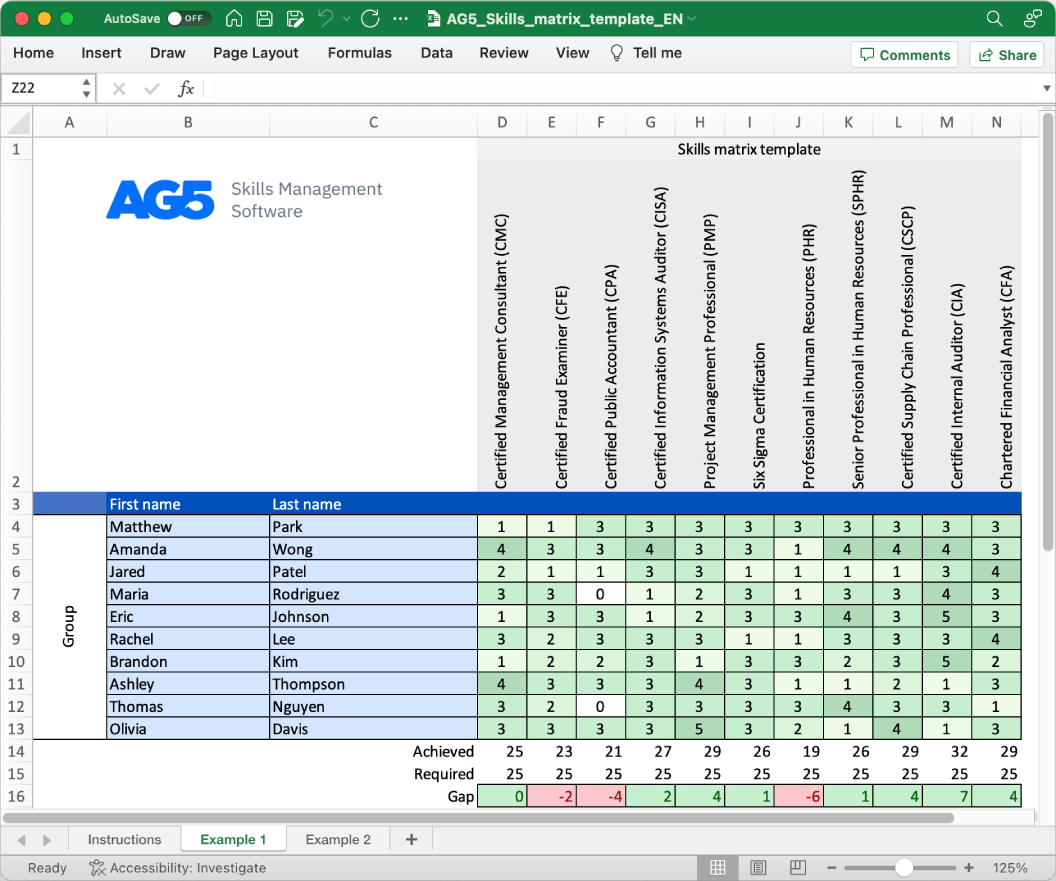 Download your free template here
Overview
With our free change implementation skills matrix template, you will receive a clear overview of the skills that are present in your organization, as well as those that are missing. Using this information, you can develop and implement a plan to ensure that your employees' skills are up to date, comprehensive, compliant, and ready for the future.
Certified Change Management Professional (CCMP)
Certified Change Manager (CCM)
Prosci Certified Change Practitioner (PCCP)
Certified Change Leader (CCL)
Certified Change Consultant (CCC)
Certified Change Facilitator (CCF)
Certified Change Analyst (CCA)
Certified Change Agent (CCA)
Certified Change Coach (CCC)
Certified Agile Change Practitioner (CACP)
Certified Transformational Change Professional (CTCP)
Certified Organizational Change Practitioner (COCP)
Certified Change Management Specialist (CCMS)
Certified Change Strategy Professional (CCSP)
Certified Change Communication Specialist (CCCS)
Certified Change Governance Professional (CCGP)
Certified Change Readiness Assessor (CCRA)
Certified Change Implementation Manager (CCIM)
Certified Change Management Trainer (CCMT)
Certified Change Management Mentor (CCMM)
Related skills
Change Management Methodologies: Proficiency in change management methodologies and frameworks is crucial for successful change implementation. Certifications such as the Prosci Certified Change Practitioner (CCP) from Prosci validate expertise in change management practices and methodologies.
Stakeholder Engagement and Communication: Effective communication and engagement with stakeholders throughout the change implementation process are essential. Certifications such as the Certified Change Management Professional (CCMP) offered by the Association of Change Management Professionals (ACMP) demonstrate competence in stakeholder management and communication.
Change Impact Assessment: Skills in assessing the potential impact of changes on processes, systems, and people are valuable for planning and executing change implementation. Certifications such as the Change Impact Specialist (CIS) from Change Management Institute (CMI) validate proficiency in change impact assessment practices.
Training and Education: Knowledge of training and educational techniques to support individuals and teams through change is important. Certifications such as the Certified Professional in Learning and Performance (CPLP) offered by the Association for Talent Development (ATD) demonstrate expertise in instructional design and training delivery.
Measurement and Evaluation: Proficiency in measuring and evaluating the effectiveness of change implementation is crucial for continuous improvement. Certifications such as the Certified Metrics and Analytics Professional (CMAP) offered by the International Institute of Business Analysis (IIBA) validate competence in business analysis practices, including measurement and evaluation.
Benefits
Skills management software helps in change implementation by tracking and managing the skills of individuals involved in change management. It ensures that professionals possess skills in change management methodologies, stakeholder engagement, communication, and data analysis for the successful implementation of organizational changes.
Ready to master skills management?
Get a personalized walkthrough of AG5 from one of our product experts in just 15 minutes.
ISO27001 certified Free trial available