Ceramics industry skills matrix template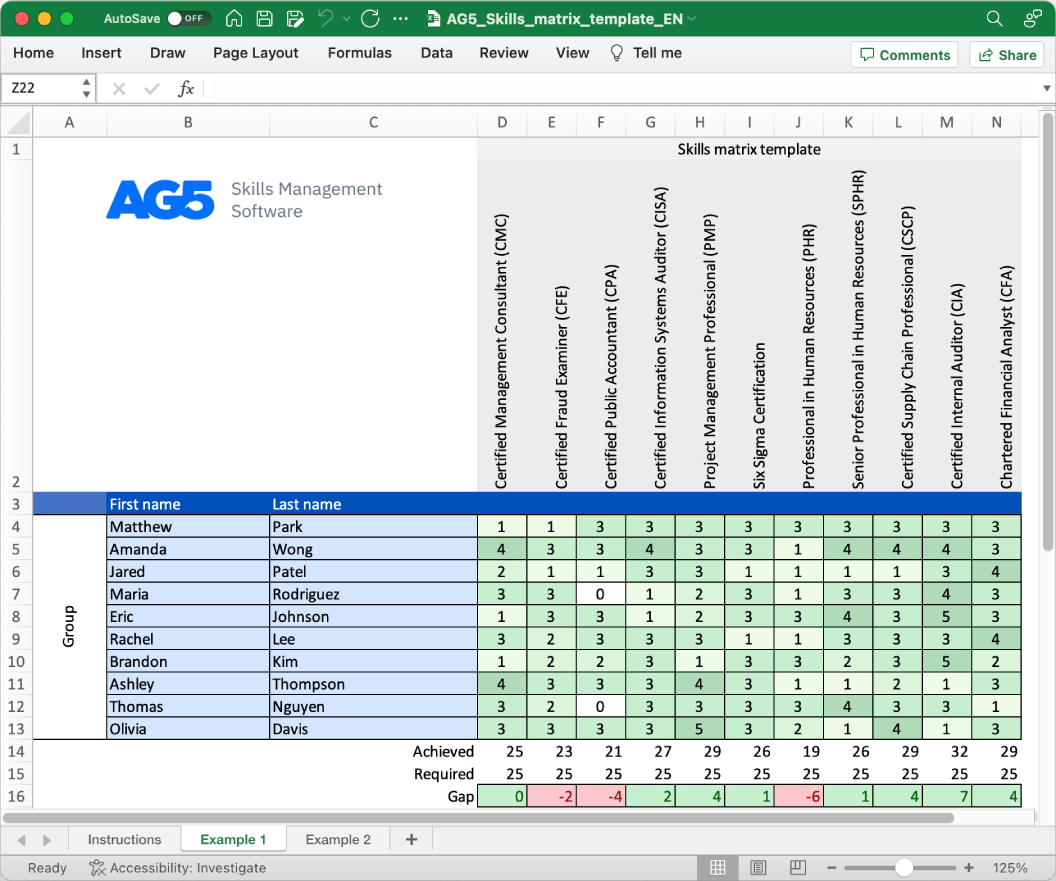 Download your free template here
Overview
With our free ceramics skills matrix template, you will receive a clear overview of the skills that are present in your organization, as well as those that are missing. Using this information, you can develop and implement a plan to ensure that your employees' skills are up to date, comprehensive, compliant, and ready for the future.
Certified Ceramic Tile Installer (CCTI)
Certified Tile Installer (CTI)
Ceramic Tile Education Foundation (CTEF) Certification
Tile Council of North America (TCNA) Handbook Certification
National Tile Contractors Association (NTCA) Five-Star Contractor
Certified Ceramic Artist (CAA)
Certified Ceramic Technician (CCT)
Certified Kiln Operator (CKO)
Certified Studio Potter (CSP)
Certified Ceramic Educator (CCE)
Certified Master Potter (CMP)
Certified Ceramic Salesperson (CCS)
Certified Production Potter (CPP)
Certified Ceramic Engineer (CCEng)
Certified Ceramic Materials Scientist (CCMS)
Certified Ceramic Decorator (CCD)
Certified Ceramic Mold Maker (CCMM)
Certified Ceramic Equipment Installer (CCEI)
Certified Ceramic Glaze Technician (CCGT)
Certified Ceramic Safety Professional (CCSP)
Related skills
Technical skills: Technical skills in ceramics are essential for creating functional and aesthetically pleasing ceramics. These skills include understanding the properties of different clays, glazes, and firing techniques. Certifications that prove technical skills in ceramics include the Certified Ceramic Technician (CCT) certification from the American Ceramic Society.
Creativity: Creativity is an essential skill in the ceramics industry as it is a form of art. Being able to create unique and appealing designs and patterns is a valuable skill in the industry. No specific certifications prove creativity, but a portfolio of work can demonstrate creativity and skill.
Attention to detail: Ceramics require precise measurements and attention to detail to ensure that the final product is of high quality. Attention to detail is also essential in the glazing and firing process to ensure consistent results. There is no specific certification for attention to detail, but it can be demonstrated through experience and references.
Business skills: Business skills such as marketing, sales, and management are essential for running a successful ceramics business. Certifications such as the Certified Business Enterprise (CBE) certification from the National Minority Supplier Development Council (NMSDC) can help demonstrate these skills.
Communication skills: Communication skills are essential for collaborating with other artists, clients, and suppliers. The Certified Professional in Business Communication (CPBC) certification from the Association for Talent Development (ATD) is a certification that can prove effective communication skills.
Benefits
Skills management software can benefit the ceramics industry by helping to identify and track employee skills, facilitating targeted training and development, and improving overall workforce productivity and efficiency.
Use AG5 to identify skill gaps
Say goodbye to Excel matrices. Start using AG5's plug and play skill matrix software.
ISO27001 certified Free trial available