CWI: Certified Welding Inspector
A Certified Welding Inspector (CWI) certification is an internationally recognized certification for welders. In this guide, we'll take a look at its significance, steps required for certification, benefits of implementation, and more.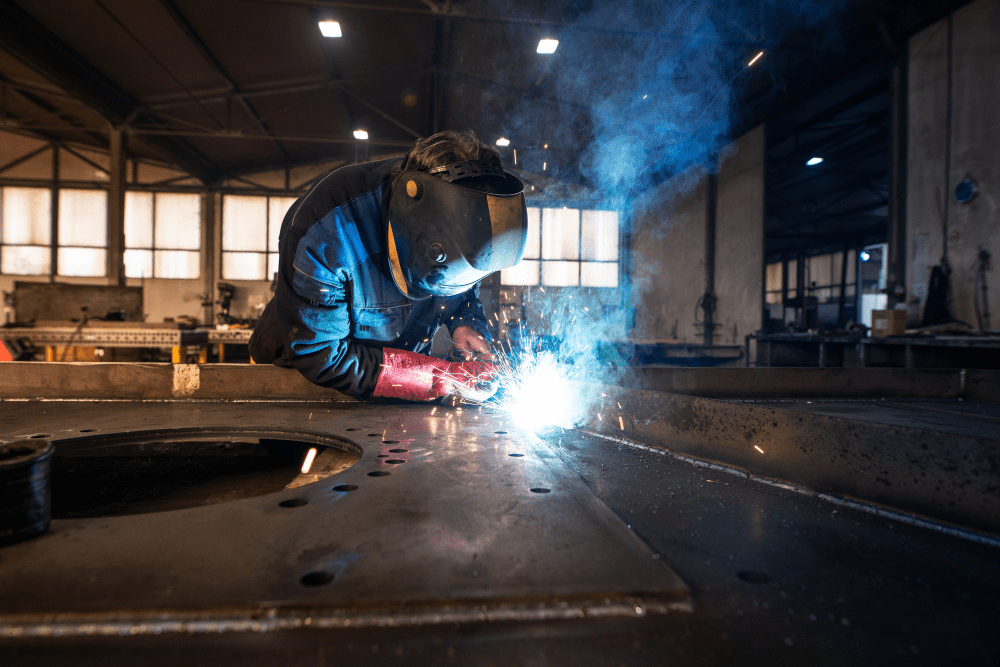 What is a CWI certification?
A CWI certification is a professional credential awarded to individuals who demonstrate expertise in inspecting and ensuring the quality of welded materials and structures. It signifies their ability to assess welds for compliance with industry standards and specifications.
A CWI certification is not mandatory in all welding positions, but it is often required or preferred for certain welding-related roles, especially in construction, manufacturing, and engineering.
Who needs a Certified Welder Instructor certification?
A CWI certification is typically sought by individuals in the welding profession who wish to teach or train others in welding techniques and practices. It's valuable for educators, trainers, and those responsible for welding skill development in various industries.
How to become a Certified Welding Inspector?
A CWI certification is most commonly issued by the American Welding Society (AWS). However, other institutions, such as the International Institute of Welding (IIW) also offer pathways to certification.
The typical process for earning a CWI certification involves:
Obtaining a high school diploma or equivalent
Possessing three to seven years of welding-related experience.
Gaining welding experience through formal education or on-the-job training
Enrolling in a CWI-preparation course or self-study using AWS or IIW materials
Applying with the relevant certification body for the CWI exam
Passing the three-part CWI exam via the AWS, which includes a fundamentals portion, practical exam, and code book exam
The benefits of a CWI certification
A CWI certification offers several benefits to organizations and employees alike. Some key advantages include the following.

Career advancement
A CWI certification enhances job prospects and opens doors for employees to higher-paying positions in welding inspection and quality assurance.

Industry recognition
A CWI certification demonstrates both organizations' and employees' expertise and commitment to upholding welding standards, earning trust from clients and employers.

Quality assurance
CWIs play a crucial role in ensuring weld quality, reducing defects, and maintaining the structural integrity of projects, contributing to workplace safety and compliance.
Challenges in obtaining a CWI certification
Obtaining a CWI certification may pose several challenges to organizations individuals. They include the following.

Rigorous requirements
Meeting the educational, experiential, and examination prerequisites can be demanding, requiring substantial time and effort.

Cost
Preparing for and taking the CWI exam involves fees for study materials, courses, and the exam itself, which can be a financial hurdle.

Continual renewal
To maintain the CWI certification, individuals must engage in ongoing education and periodic recertification, necessitating a commitment to staying updated in the field.
What is the CWI certification cost?
The cost of a CWI certification can vary, but typically includes expenses for study materials, preparatory courses, and the examination fee. These costs can range from $1,000 to $3,000 or more, depending on factors such as study methods and exam location.
For example, taking the CWI exam with the AWS costs $1,070 for AWS members and $1,325 for non-members. Keep in mind, however, that these costs are for the exam only.
What are the renewal requirements for a CWI certification?
A CWI certification is typically valid for three years, after which time it must be renewed by retaking the exam or taking 80 hours of off approved professional development courses. Renewal costs typically range between $500-1,000.
What are tips and strategies for preparing for CWI certification
Here are a few tips for preparing for a CWI certification:
Begin studying well in advance to cover all exam topics thoroughly and avoid last-minute cramming
Invest in reputable study guides and materials provided by the AWS or other certification body
Take practice tests to familiarize yourself with the exam format and identify areas where you need improvement
Consider enrolling in a CWI preparatory course to receive expert guidance and hands-on training
Create a study schedule, stay disciplined, and allocate dedicated time for review and practice to maximize your chances of success
What are resources for a CWI certification?
Skills management for Certified Welding Inspectors
AG5 stores all certifications in the cloud, providing all authorized personnel with access to the right version of approved certifications. This helps you easily keep track of all data and documentation related to CWI certifications across your organization.
Using AG5's skills management software, you can monitor the status of any type of certification that is relevant to your workforce, leveraging intuitive dashboards that provide you with a clear understanding of exactly what is needed to keep your employees skilled and safe.
Frequently asked questions about CWI certification
What is the scope of a CWI certification?

Is a CWI certification mandatory?

How long does it take to obtain a CWI certification?

What are the cost considerations for a CWI certification?

What is the validity period of a CWI certification?

Can a CWI certification be integrated with other management systems?

How can you learn more about CWI certification?
Use AG5 to identify skill gaps
Say goodbye to Excel matrices. Start using AG5's plug and play skill matrix software.
ISO27001 certified Free trial available