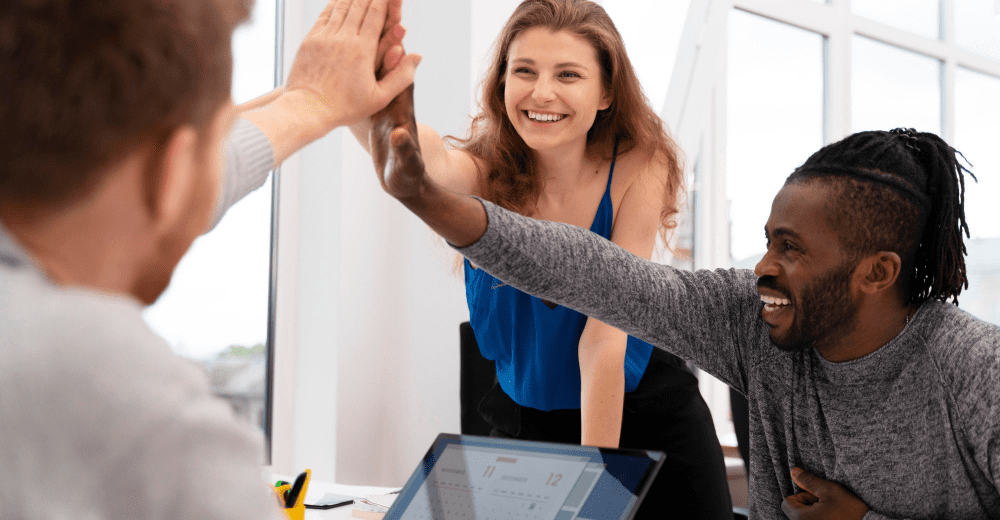 The path to future success for businesses lies in capability building. At its core, capability building equips a business with the necessary skills, processes, and resources to tap into its full potential. It involves thoroughly auditing a company's capabilities and identifying gaps hindering growth or progress. From individual and organizational skills to company culture, building capability is a comprehensive process that requires careful planning and execution.
Let's explore capability building, the steps for creating a capability-building strategy, and how to ensure successful outcomes.
What is capability building?
Capability building is a proactive way of ensuring a business' future prosperity. It's about recognizing where a business should be and plotting out what must be done to get there, investing in both its people and their ability to work together as a team.
Capability building is a critical component of any business's success; it's not just about the big picture leadership skills, but also minor elements that could undermine progress if left unchecked. Through consistent effort and proactive attention to detail, companies can ensure they remain on track for their desired objectives by continuously honing key capabilities to stay ahead of the competition.
Capability building vs. capacity building
Although capability building and capacity building sound similar, they are two distinct concepts that play vital roles in a company's success. Capacity building focuses on a company's ability to take on more work by expanding its resources, whether hiring more staff or securing new equipment or premises.
In contrast, capability building is about improving a company's ability to deliver that work well by equipping the business and empowering its staff with the necessary skills and knowledge for success.
Interestingly, capability building can also play a significant role in increasing capacity. For example, companies can seize new business opportunities by developing the capability to predict and plan capacity in a service business. As a result, managers can reclaim their time to increase productivity in valuable areas. This investment can result in tremendous success for the business!
The three components of building a capable organization are:
Building a capable organization necessitates a three-pronged approach that encompasses the following:
Cultivation of skilled personnel
Establishment of competitive organizational capabilities
Implementation of a dynamic organizational structure
Employee capability building: Core capabilities
Successful businesses share core capabilities, according to Harvard Business Review. These include attracting, motivating, and retaining quality employees, making essential changes rapidly, and ensuring positive interactions with employees and customers.
Effective businesses elicit high performance from their employees, work efficiently across boundaries, generate impactful ideas, and embed leaders throughout their organizations. In addition, they build lasting relationships with targeted clientele by articulating and sharing a clear strategic point of view, innovating both in content and process, and effectively managing costs. Achieving these capabilities requires focus, dedication, and hard work, but the benefits are clear: a thriving enterprise poised to excel in today's dynamic business landscape.
Capability building examples
Building business capability encompasses individuals and the entire enterprise. With regard to personal development, it can involve setting goals such as key performance indicators (KPIs), training or mentoring activities, or collaborations with colleagues for peer-to-peer learning opportunities – all of which allow employees to expand their abilities while establishing a growth mindset.
On an organizational level, developing capability includes recruitment drives for coveted experts in your field, alongside upskilling initiatives led by experienced leadership teams. Team-building exercises are also recommended, along with process optimization efforts that decrease operational risk and open new doors via cutting-edge IT investments.
The importance of capability building
After the COVID-19 pandemic, business leaders have become more aware that investing in capability building is crucial to lasting success. An impressive 80% now recognize this importance – a stark contrast to the 59% of pre-2020 respondents.
Businesses that prioritize developing employee capabilities tend to reap the rewards. For example, research from McKinsey reveals that companies that devote at least 10% of their staff to capability-building initiatives experience twice as much improvement in Organizational Health Index (OHI) scores than those that do not. Moreover, they enjoy 43% higher returns on the benchmarks set for them.
How to create an effective capability building strategy
Business leaders understand the importance of capability building for success. However, its intangibility makes it rather difficult to develop. Fortunately, investing in these capabilities will benefit a business greatly by making them agile and allowing time for creativity – adding a unique edge that competitors may struggle to replicate!
With the right approach, capability building can be a game-changing element of success for any business. Here are six steps to help you create an effective capability-building strategy:
Focus on outcomes, not methods. Identify what your business can achieve, not just how it gets done.
Categorize capabilities as core, supporting, and strategic.
Leverage data to build strong business capabilities around information rather than processes to make more informed decisions and stay ahead of the competition.
Build capabilities in a structured hierarchy to identify gaps.
Use a common language to promote collaboration and facilitate communication between different teams and departments.
Build upon existing strengths your team has and enhance their capabilities from there.
5 tips for building employee capability and performance
To get started and maximize your enterprise's efficiency, sustainability, and potential, here are the five top tips from our experts:
Leaders should model desired changes for a 5.3x higher capability building success rate.
Engage colleagues to feel part of the process for effective capability building.
Widespread engagement with employees increases opportunities to change behaviors and competencies.
Remote collaboration tools remove attendance limits, making capability-building initiatives easier to deliver.
Small changes, like standardized processes and basic training, can be crucial levers in transformation.
Streamline capability building efforts with AG5 software
Capability-building initiatives are essential to any service business, and in today's connected world, they can be implemented faster than ever. AG5 is a capability management software that helps companies to streamline their capability building efforts with a customizable capability matrix, easy-to-use navigation tools, streamlined reporting capabilities, and secure data storage.
With AG5's help, businesses can quickly develop the capabilities of their workforce to meet better meet their customers' needs. Want to learn more about AG5? Schedule your free live demo today!
Ready to master skills management?
Get a personalized walkthrough of AG5 from one of our product experts in just 15 minutes.

ISO27001 certified

Free trial available
---
---