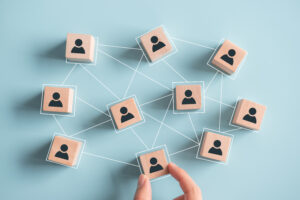 HR is the heart of any business, and those who work in HR often find it to be a challenging yet rewarding career. But, what does a day in the life of an HR manager look like?
Everyone knows HR managers have a lot on their plates, with so many changes happening at once and constantly being bombarded with new tasks, from acquisition to supporting employees in training and providing guidance, but that's where the opportunities come in.
If you want to get started as an HR professional with a solid background on how best to begin your journey, keep on reading! You'll learn about the different aspects of HR and what it's like to work in this field.
A day in the life of an HR manager: No two days are alike
An HR manager is responsible for a lot of different things. They often have to wear many hats as they are responsible for the people in their organization.
No two days are alike as an HR manager! You might start your day by researching new benefits for employees. Then, you could review the annual review process. After that, you might help employees with their development and support needs.
In the afternoon, you might meet with employees to see how life at work is going for them. Toward the end of the day, you might kick off a new initiative.
A day in the life of an HR manager is never the same as the previous one. The unpredictability is one of the things that make this job so exciting!
Get ahead in your HR career
To pursue an HR management role, you need both education and experience. According to the U.S Bureau of Labor Statistics, most positions require a bachelor's degree in human resources or an advanced degree.
With the rise of technology and changing business practices, there are more intricacies to the HR team's functionality in an organization.
To keep up with the latest HR trends and have a competitive edge when applying for jobs, getting qualified gives you a significant advantage.
A day in the life of an HR manager: Daily activities do HR managers engage in?
A day in the life of an HR manager juggles many tasks. They are responsible for everything from recruiting and onboarding new employees to managing payroll and benefits.
According to the Society for Human Resource Management, the daily duties/responsibilities of a day in the life of an HR manager include:
Supporting the leadership team in understanding and executing the organization's human resource and talent strategy, particularly concerning current and future talent needs, staff retention, and succession planning.
Guiding HR generalists, management, and other staff when complex, specialized, and sensitive questions and issues arise.
Overseeing the talent acquisition process by working with departmental managers to identify the skills and competencies required for specific roles.
Researching and recommending competitive base and incentive pay programs to ensure that the organization attracts and retains top talent.
Creating learning and development programs that provide internal development opportunities for employees.
Overseeing employee disciplinary meetings, terminations, and investigations.
Reviewing policies and practices to maintain compliance with laws and regulations.
Maintaining knowledge of trends, best practices, regulatory changes, and new technologies in human resources, talent management, and employment law.
However, the Gartner Survey of 860 HR leaders in July 2022 found the other top organizational priorities for HR leaders next year are: organizational and change management (53%), employee experience (47%), recruiting (46%), and the future of work (42%).
Therefore, it works best if you also have the ability to be flexible, promote change well, and know how to cope when others might find their jobs difficult or even overwhelming at times.
In addition, the communicative and analytical skills required to relate to people, build relationships, and resolve problems will be crucial in these activities.
Nine challenges HR managers faces daily
One of the most challenging aspects of the HR manager role is dealing with the constantly changing workplace. With new technologies and working styles always emerging, it can take time to keep up with the latest trends.
This means that HR managers have to be adaptable and willing to learn new things. Additionally, they need to communicate effectively with employees from all different backgrounds, disciplines, and generations.
We asked HR managers about the challenges they face on a daily basis; they described a wide range of challenges. A day in the life of an HR manager most frequently mentioned challenges are:
Discussing training content to align different departments. Some training material can be relevant to multiple departments, yet there can be significant differences in the learning approach and pace.
Aligning training plans with different teams that have different needs and goals.
Updating the skills of employees to keep up with the latest trends and technologies.
Brainstorming health and safety training. This is vital but challenging as there are many individual preferences when it comes to wellbeing.
Keeping track of employee progress to ensure everyone gets the most out of their training. How do you make sure everyone is keeping up?
Discussing the global training library to have a central location for all training materials. The more cultures and people involved, the more complicated the structures.
Discussing the local training library to tailor materials to the specific needs of each department. Keeping the global library in mind but making sure it's localized.
Coming up with new training ideas to improve employee skills is a never-ending job for HR managers in any industry.
Managing the skills of the production line to keep things running smoothly. Preventing skills gaps and closing them is something HR should always be involved in.
However, despite these challenges, all HR managers we encounter are committed to making their workplace better every day.
Skills management software helps HR managers overcome these challenges, which saves them valuable time to invest in other more exciting aspects of their job.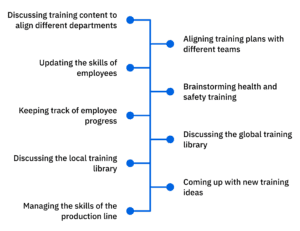 Nine reasons why the HR industry is exciting
The HR industry is one of the most exciting industries to work in for several reasons. Here are 9 reasons why:
There is plenty of opportunity for growth. Following the latest trends in business and technology, the HR field is constantly evolving. This provides ample opportunity for industry professionals to grow their skills and knowledge.
You get to help people. One of the most rewarding aspects of a day in the life of an HR manager is being able to help employees with their career development and support needs. You make a difference in people's lives every day! Whether helping someone with their career development or supporting them through a difficult time, you know that your work positively impacts someone's life.
Working with people from different generations and backgrounds makes the field a dynamic and exciting work environment.
You get to work on various projects. A day in the life of an HR manager could include anything from developing new policies to managing staff training programs.
There's a lot of room for creativity when developing new solutions to problems because the HR field is constantly changing.
You get to learn about different cultures and customs. It can be a great way to expand your knowledge and understanding of the world.
Many HR professionals have the opportunity to travel for work, which can be a great perk.
You get to use your problem-solving skills. This helps you develop both creative and critical thinking skills.
You get to be part of a team, collaborate with others, and develop strong working relationships. Working together helps you become a better team player.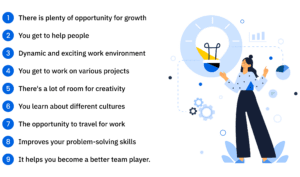 Conclusion
A day in the life of an HR manager is never the same as the last one. The HR industry is an exciting field recommended for those who love helping people and enjoy working with others. With the rise of technology and changing business practices, more intricacies come with the HR team's functionality in an organization.
It has become apparent how important it is to keep up with the latest HR trends, which impact how organizations facilitate their employees and build workplace culture over time.
In a day in the life of an HR manager, you can be a generalist or specialist in HR, depending on your interests and what type of organization you want to work for. Whether you're interested in the big picture or the details, there's a place for you in HR.
HR professionals use AG5 skills management software to help manage employee data and performance.
It's a tool that can make your job easier and help you be more efficient in your work. Schedule your free demo today.
---
---