Supply chain risk management skills matrix template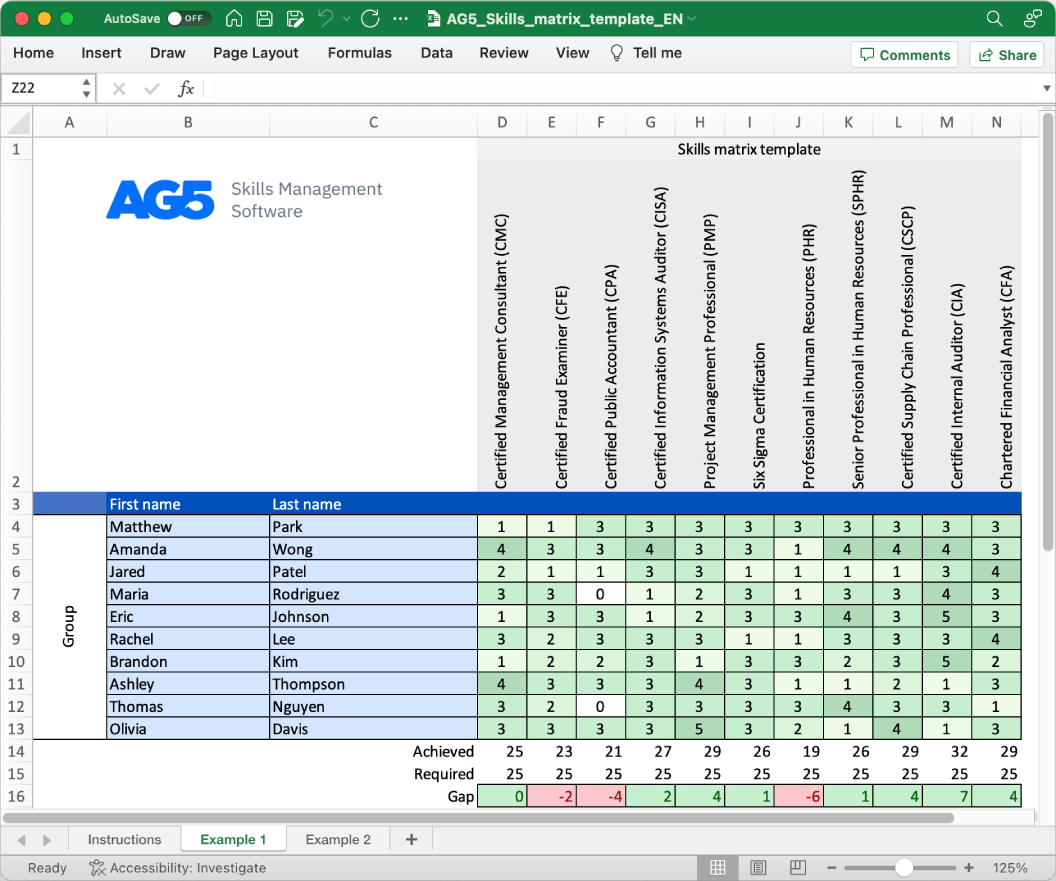 Download your free template here
Overview
With our free supply chain risk management skills matrix template, you will receive a clear overview of the skills that are present in your organization, as well as those that are missing. Using this information, you can develop and implement a plan to ensure that your employees' skills are up to date, comprehensive, compliant, and ready for the future.
CSCA (Certified Supply Chain Analyst)
CSCR (Certified Supply Chain Risk Manager)
CSRA (Certified Supply Risk Analyst)
CSSM (Certified Supply Chain Security Manager)
CPCM (Certified Professional in Contract Management)
CPM (Certified Purchasing Manager)
CSM (Certified Supplier Manager)
CPSM (Certified Professional in Supply Management)
CDRP (Certified Disaster Recovery Professional)
CTRM (Certified Trade Risk Manager)
CSOP (Certified Supply Operations Professional)
CMRP (Certified Maintenance and Reliability Professional)
CPTL (Certified Procurement and Transport Logistics)
CISM (Certified Information Security Manager)
CPIM (Certified in Production and Inventory Management)
CIAC (Certified International Air Cargo)
CTSRM (Certified Trade Supply Risk Manager)
CPSI (Certified Professional in Supplier Integration)
CSBC (Certified Supplier Business Continuity)
CTSR (Certified Trade Supply Risk)
Related skills
Risk Assessment and Analysis: Identifying and assessing risks in the supply chain, including supplier risks, operational risks, and market risks. Relevant certifications include Certified Supply Chain Risk Analyst (CSCRA) and Certified Risk Assessment Professional (CRAP).
Supplier Evaluation and Selection: Developing criteria for evaluating and selecting suppliers, conducting due diligence, and assessing supplier capabilities and reliability. Relevant certifications include Certified Supplier Quality Professional (CSQP) and Certified Supplier Relationship Manager (CSRM).
Contractual Risk Management: Understanding and managing contractual risks within the supply chain, including terms and conditions, liability, indemnity, and intellectual property rights. Relevant certifications include Certified Supply Chain Contracts Manager (CSCCM) and Certified Contract Risk Specialist (CCRS).
Continuity Planning and Business Resilience: Developing strategies and plans to ensure business continuity in the face of supply chain disruptions, assessing vulnerabilities, and implementing risk mitigation measures. Relevant certifications include Certified Business Continuity Professional (CBCP) and Certified Supply Chain Resilience Professional (CSCRP).
Compliance and Regulatory Knowledge: Staying up-to-date with applicable regulations and compliance requirements related to supply chain management, including import/export regulations, product safety, and environmental standards. Relevant certifications include Certified Supply Chain Compliance Professional (CSCCP) and Certified Regulatory Supply Chain Specialist (CRSCS).
Benefits
Skills management software is important in supply chain risk management as it enables organizations to identify and manage the skills of their personnel involved in mitigating supply chain risks. It ensures that individuals with expertise in risk assessment, supplier evaluation, and crisis response are assigned to effectively manage and minimize supply chain risks.
Ready to master skills management?
Get a personalized walkthrough of AG5 from one of our product experts in just 15 minutes.
ISO27001 certified Free trial available