Shipbuilding skills matrix template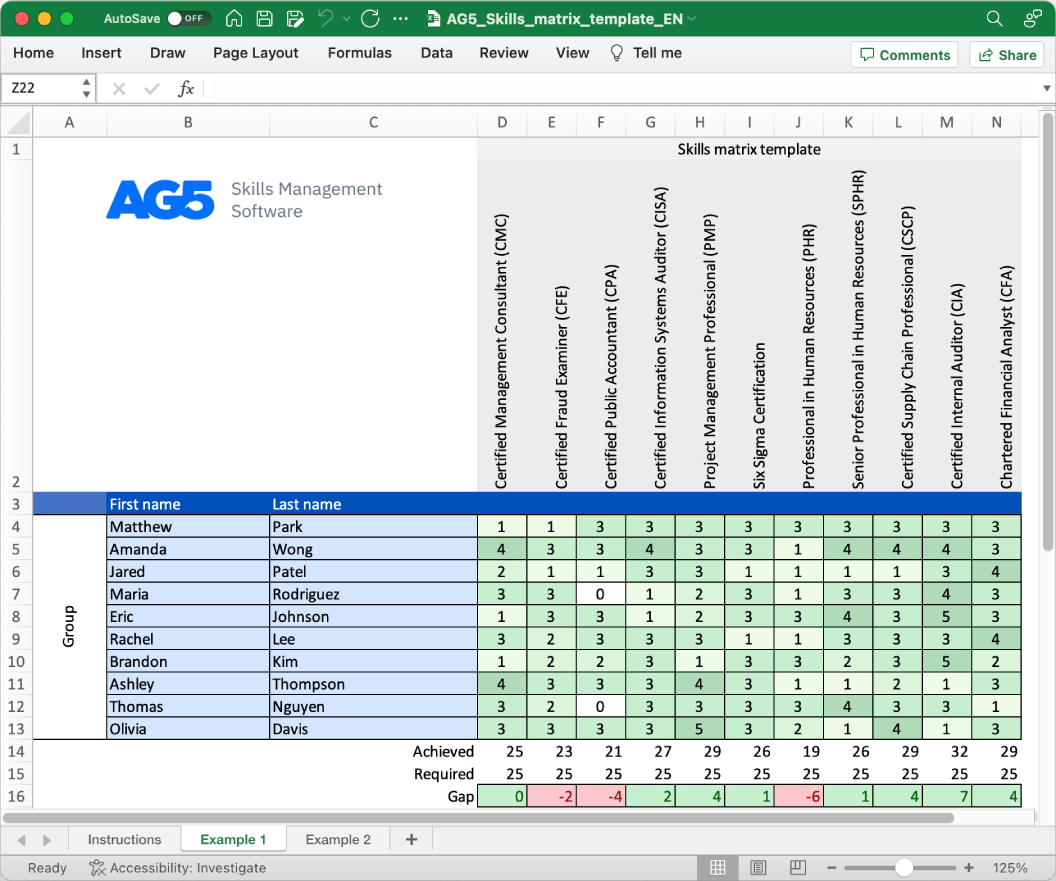 Download your free template here
Overview
With our free shipbuilding skills matrix template, you will receive a clear overview of the skills that are present in your organization, as well as those that are missing. Using this information, you can develop and implement a plan to ensure that your employees' skills are up to date, comprehensive, compliant, and ready for the future.
American Bureau of Shipping Certification (ABS)
Det Norske Veritas Certification (DNV)
Lloyd's Register Certification (LR)
Bureau Veritas Certification (BV)
China Classification Society certification (CCS)
Korean Register of Shipping certification (KR)
Registro Italiano Navale certification (RINA)
Quality Management System certification (ISO 9001)
Environmental Management System certification (ISO 14001)
Occupational Health and Safety Management System certification (OHSAS 18001)
Shipbuilding Industry Specialist (SIS) certification
Marine Engineer Certification (MEC)
Certified Welding Inspector (CWI)
Certified Marine Surveyor (CMS)
Certified Marine Technician (CMT)
Certified Marine Electrician (CME)
Certified Naval Architect (CNA)
Shipyard Competent Person (SCP) certification
Certified Marine Coatings Inspector (CMCI)
Certified Marine Machinery Mechanic (CMMM)
Related skills
Marine engineering: Skills required to design and build marine vessels. Certifications that prove this skill include the Society of Naval Architects and Marine Engineers (SNAME) certification and the American Bureau of Shipping (ABS) certification.
Welding: Skills required to weld metal components used in shipbuilding. Certifications that prove this skill include the American Welding Society (AWS) Certified Welding Inspector certification and the AWS Certified Welder certification.
Electrical systems installation and maintenance: Skills required to install and maintain electrical systems used in marine vessels. Certifications that prove this skill include the National Center for Construction Education and Research (NCCER) certification and the International Association of Marine and Offshore Engineers (IAMOE) certification.
Project management: Skills required to manage shipbuilding projects. Certifications that prove this skill include the Project Management Professional (PMP) certification and the Certified Associate in Project Management (CAPM) certification.
Quality control and assurance: Skills required to ensure that shipbuilding projects meet quality standards. Certifications that prove this skill include the American Society for Quality (ASQ) Certified Quality Auditor certification and the ASQ Certified Quality Engineer certification.
Benefits
Skills management software can help ensure that shipbuilders possess necessary skills, knowledge, and certifications to construct and maintain vessels while meeting safety regulations.
Use AG5 to identify skill gaps
Say goodbye to Excel matrices. Start using AG5's plug and play skill matrix software.
ISO27001 certified Free trial available