Risk control implementation skills matrix template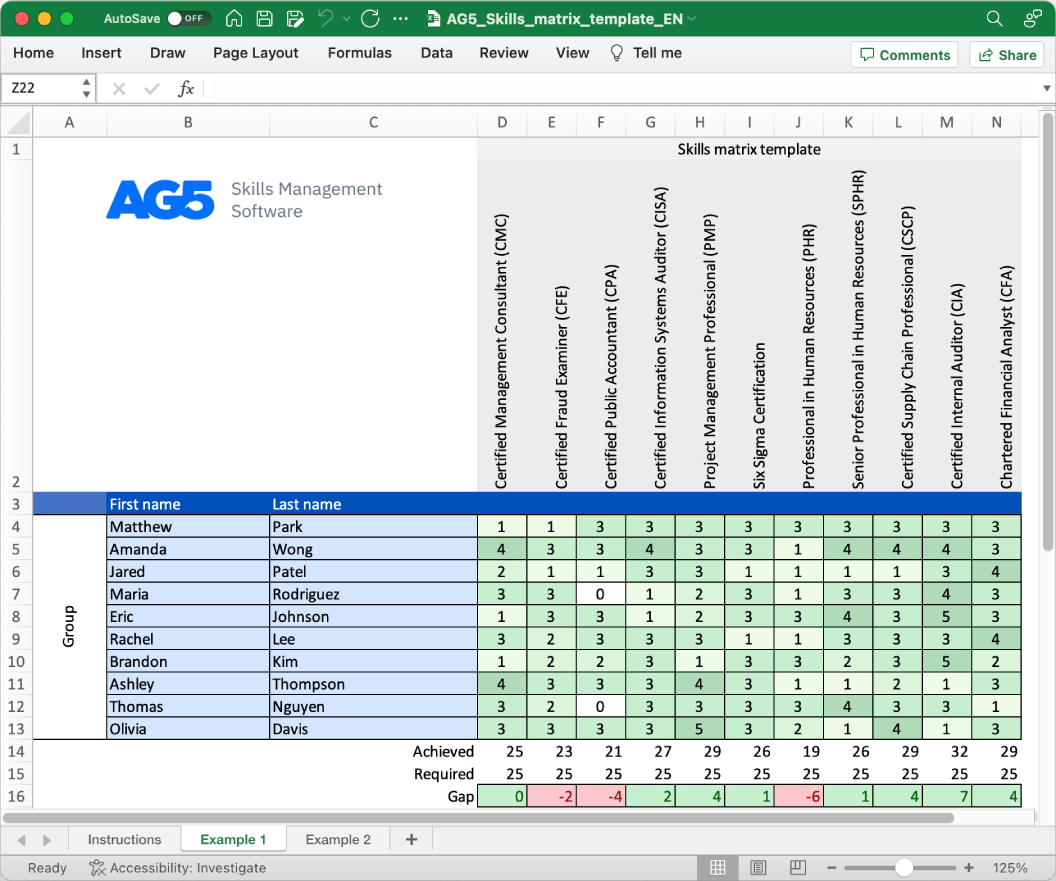 Download your free template here
Overview
With our free risk control implementation skills matrix template, you will receive a clear overview of the skills that are present in your organization, as well as those that are missing. Using this information, you can develop and implement a plan to ensure that your employees' skills are up to date, comprehensive, compliant, and ready for the future.
Certified Risk Management Professional (CRMP)
Certified Risk Analyst (CRA)
Certified Risk Manager (CRM)
Certified Risk Specialist (CRS)
Certified Risk Consultant (CRC)
Certified Risk Assessment Analyst (CRAA)
Certified Risk Assessment Specialist (CRAS)
Certified Risk Assessment Manager (CRAM)
Certified Risk Assessment Consultant (CRAC)
Certified Risk Evaluation Analyst (CREA)
Certified Risk Evaluation Specialist (CRES)
Certified Risk Evaluation Manager (CREM)
Certified Risk Evaluation Consultant (CREC)
Certified Risk Mitigation Analyst (CRMA)
Certified Risk Mitigation Specialist (CRMS)
Certified Risk Mitigation Manager (CRMM)
Certified Risk Mitigation Consultant (CRMC)
Certified Risk Control Analyst (CRCA)
Certified Risk Control Specialist (CRCS)
Certified Risk Control Manager (CRCM)
Related skills
Risk Assessment and Analysis: Proficiency in conducting thorough risk assessments and analyzing risks can be proven by certifications such as the Certified Risk Management Professional (CRMP) by the Institute of Risk Management (IRM), which validates expertise in risk management principles and practices, including risk assessment techniques.
Control Measure Selection: Skill in selecting and implementing appropriate control measures to mitigate identified risks effectively aligns with certifications like the Certified Control Self-Assessment (CCSA) by the Institute of Internal Auditors (IIA), which focuses on control evaluation and selection across various business functions.
Risk Monitoring and Evaluation: The ability to establish monitoring systems to track the effectiveness of implemented risk controls and regularly evaluate their performance can be demonstrated through certifications such as the Certified Information Systems Auditor (CISA) by ISACA, emphasizing risk assessment, control, and monitoring in IT and information systems environments.
Compliance and Regulatory Knowledge: Understanding of relevant compliance requirements and regulations related to risk management can be validated through certifications like the Certified in Risk and Information Systems Control (CRISC) by ISACA, which covers risk management and compliance in IT and business processes.
Communication and Stakeholder Engagement: Competency in effectively communicating risk control measures to stakeholders and engaging them in the risk management process can be showcased by certifications such as the Certified Professional in Training Management (CPTM) by Training Industry, Inc., which validates expertise in training program development and delivery, including risk control training.
Benefits
Skills management software is important in risk control implementation, as it helps identify skilled individuals to implement risk mitigation measures effectively.
Ready to master skills management?
Get a personalized walkthrough of AG5 from one of our product experts in just 15 minutes.
ISO27001 certified Free trial available