Process optimization skills matrix template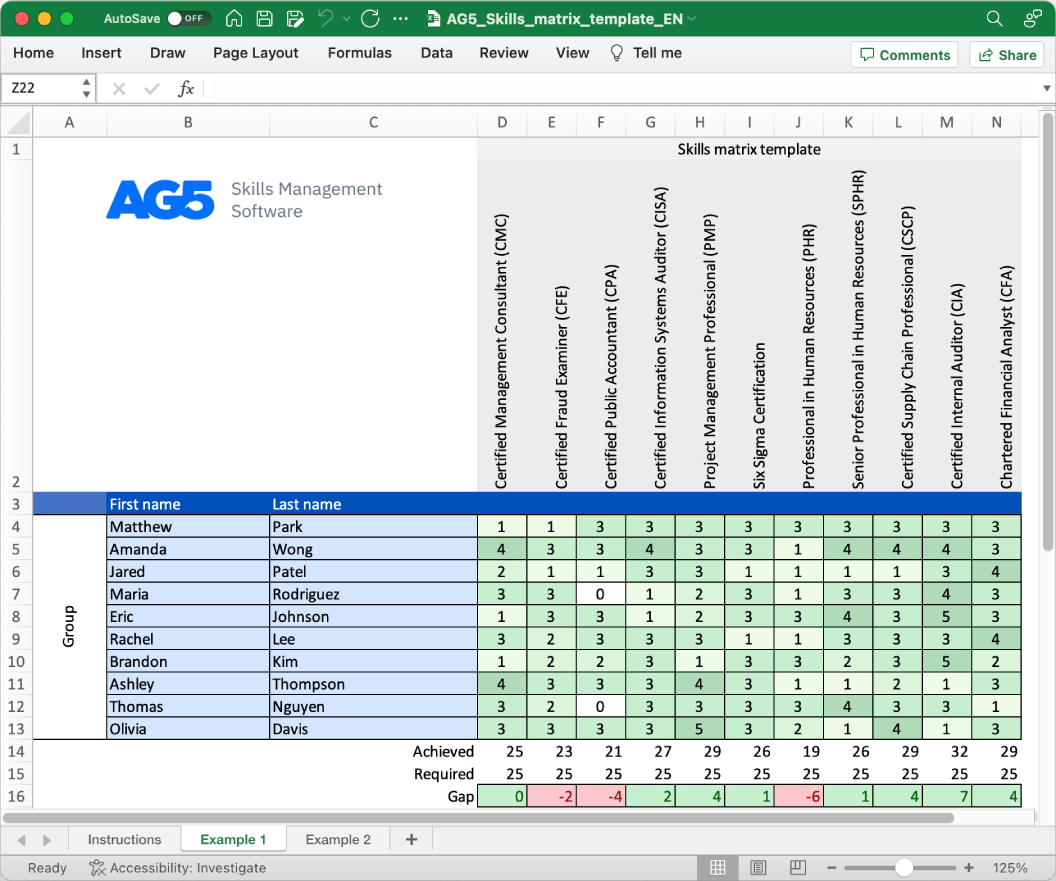 Download your free template here
Overview
With our free process optimization skills matrix template, you will receive a clear overview of the skills that are present in your organization, as well as those that are missing. Using this information, you can develop and implement a plan to ensure that your employees' skills are up to date, comprehensive, compliant, and ready for the future.
Certified Lean Six Sigma Black Belt (CLSSBB)
Certified Lean Six Sigma Green Belt (CLSSGB)
Certified Lean Practitioner (CLP)
Certified Business Process Management Professional (CBPMP)
Certified Process Improvement Associate (CPIA)
Certified Process Design Engineer (CPDE)
Certified Process Analyst (CPA)
Certified Value Stream Mapping Professional (CVMP)
Certified Process Excellence Leader (CPEL)
Certified Process Optimization Expert (CPOE)
Certified Process Automation Specialist (CPAS)
Certified Process Innovation Manager (CPIM)
Certified Process Metrics Analyst (CPMA)
Certified Process Simulation Professional (CPSP)
Certified Process Change Manager (CPCM)
Certified Process Redesign Specialist (CPRS)
Certified Process Standardization Practitioner (CPSP)
Certified Process Synchronization Specialist (CPSS)
Certified Process Control Engineer (CPCE)
Certified Process Performance Analyst (CPPA)
Related skills
Process Analysis and Mapping: Proficiency in analyzing and mapping existing processes is crucial for identifying areas of improvement. Certifications such as the Lean Six Sigma Green Belt or Black Belt, offered by organizations like the American Society for Quality (ASQ) or the International Association for Six Sigma Certification (IASSC), demonstrate competence in process analysis and improvement methodologies.
Data Analysis and Statistical Tools: Skills in data analysis, statistical analysis, and the use of statistical process control (SPC) tools are valuable for process optimization. Certifications such as the Certified Analytics Professional (CAP) offered by INFORMS (The Institute for Operations Research and the Management Sciences) validate proficiency in data analytics and statistical analysis.
Lean Principles and Tools: Knowledge of lean principles and tools for waste reduction and process efficiency improvement is important in process optimization. Certifications such as the Certified Lean Practitioner (CLP) from the Lean Certification Alliance demonstrate expertise in lean methodologies and tools.
Continuous Improvement Methodologies: Proficiency in continuous improvement methodologies such as Kaizen, PDCA (Plan-Do-Check-Act), or DMAIC (Define-Measure-Analyze-Improve-Control) is valuable for driving process optimization. Certifications like the Certified Manager of Quality/Organizational Excellence (CMQ/OE) from ASQ encompass topics related to quality management and continuous improvement practices.
Change Management: Skills in change management methodologies and techniques are essential for implementing process optimization initiatives successfully. Certifications such as the Prosci Certified Change Practitioner (CCP) from Prosci validate expertise in change management practices and methodologies.
Benefits
Skills management software helps in process optimization by tracking and managing the skills of professionals involved in analyzing and improving processes. It ensures that individuals possess skills in process analysis, data analysis, continuous improvement methodologies, and change management for optimizing organizational processes.