Encore technical skills matrix template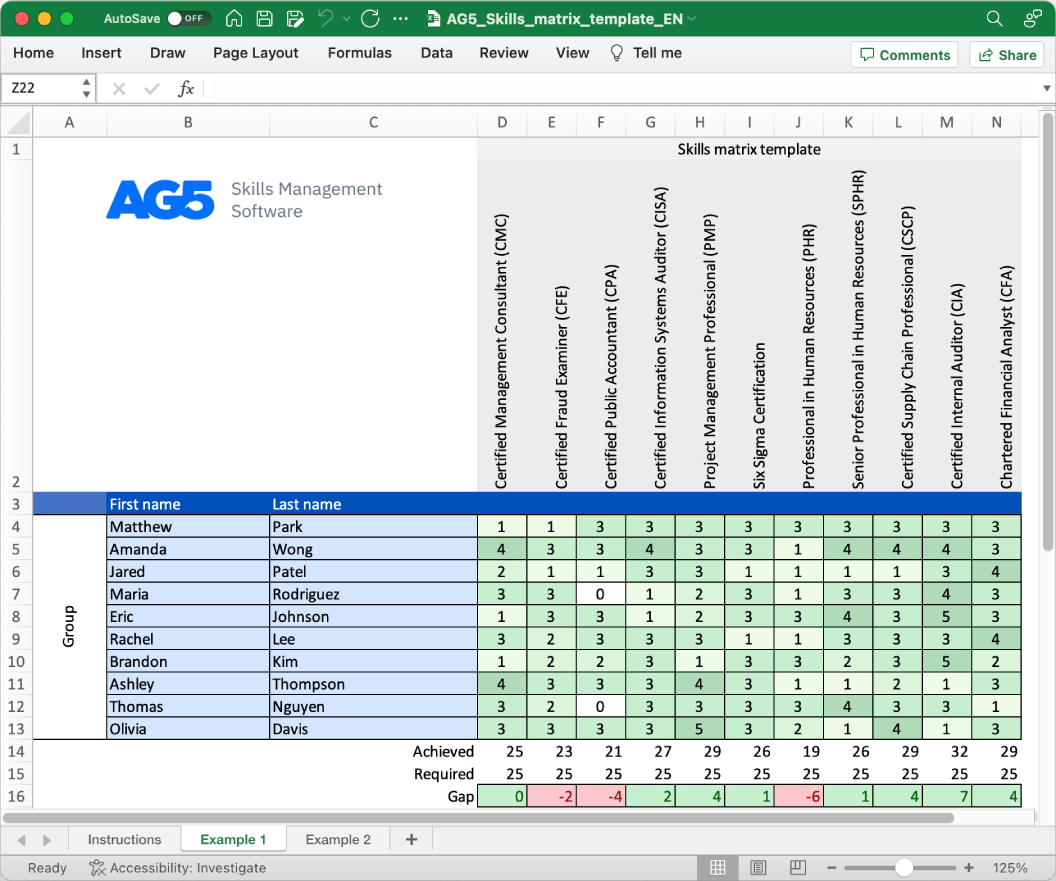 Download your free template here
Overview
With our free encore technical skills matrix template, you will receive a clear overview of the skills that are present in your organization, as well as those that are missing. Using this information, you can develop and implement a plan to ensure that your employees' skills are up to date, comprehensive, compliant, and ready for the future.
Certified Electronics Technician (CET)
Certified Control Systems Technician (CCST)
Certified Industrial Maintenance Mechanic (CIMM)
Certified Maintenance and Reliability Professional (CMRP)
Certified Manufacturing Technologist (CMfgT)
Certified Master Automotive Technician (CMAT)
Certified Welding Inspector (CWI)
Certified Safety Professional (CSP)
Certified Control Systems Engineer (CSE)
Certified Professional in Supply Management (CPSM)
Certified Quality Technician (CQT)
Certified Professional in Electronic Health Records (CPEHR)
Certified Professional in Healthcare Information and Management Systems (CPHIMS)
Certified Facilities Manager (CFM)
Certified Occupational Health Nurse-Specialist (COHN-S)
Certified Occupational Health Nurse (COHN)
Certified Industrial Hygienist (CIH)
Certified Environmental Professional (CEP)
Certified Industrial Engineer (CIE)
Certified Reliability Technician (CRT)
Related skills
Technical writing: Technical writers need to be able to communicate complex technical information in a clear and concise manner. Certifications such as the Society for Technical Communication's Certified Professional Technical Communicator (CPTC) and the American Medical Writers Association's Board Certification in Medical Writing validate technical writing skills.
Technical support: Technical support professionals need to be able to troubleshoot technical issues and provide solutions to customers. Certifications such as the CompTIA A+ and the Help Desk Institute's Customer Support Professional (CSP) validate technical support skills.
Technical training: Technical trainers need to be able to design and deliver effective technical training programs. Certifications such as the Certified Technical Trainer (CTT+) from CompTIA and the Association for Talent Development's Certified Professional in Learning and Performance (CPLP) validate technical training skills.
Technical project management: Technical project managers need to be able to manage complex technical projects and coordinate project teams. Certifications such as the Project Management Institute's Project Management Professional (PMP) and the Certified ScrumMaster from Scrum Alliance validate technical project management skills.
Technical documentation management: Technical documentation managers need to be able to manage technical documentation projects and teams. Certifications such as the Certified Document Imaging Architech (CDIA+) from CompTIA and the Information Mapping Certified Professional (IMCP) validate technical documentation management skills.
Benefits
Skills management software can help technical professionals stay up to date with the latest tools and technologies, identify areas for improvement, and track progress towards their professional development goals.
Use AG5 to identify skill gaps
Say goodbye to Excel matrices. Start using AG5's plug and play skill matrix software.
ISO27001 certified Free trial available