Develop a training plan that keeps you ahead of the curve.
Easily onboard, upskill, and train employees, so your organization is current, compliant, and safe – with no skills gaps in sight.
Visualize skills gaps, predict team requirements, and avoid overtraining.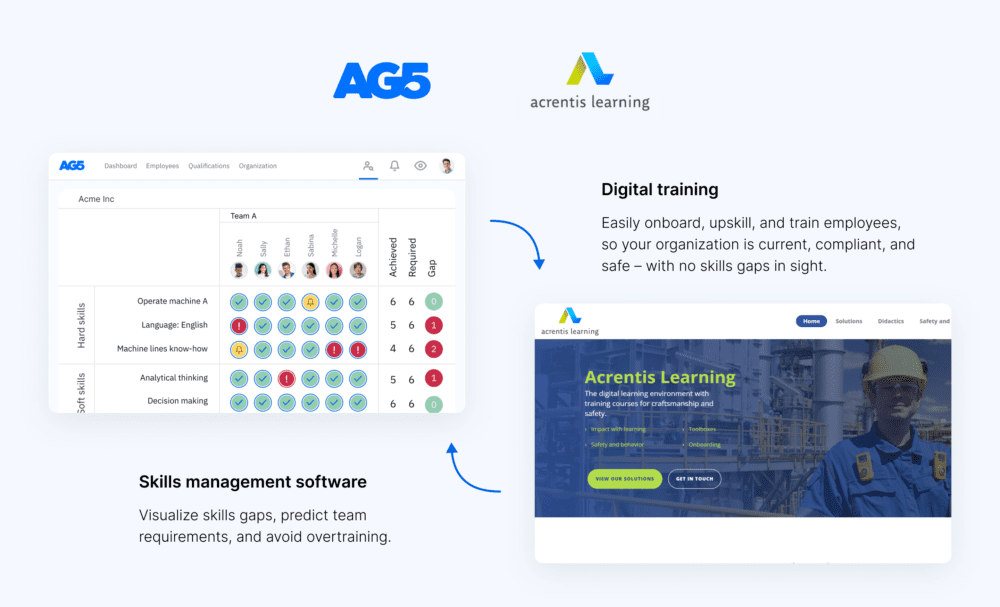 How does the AG5 and Acrentis Learning integration work?
AG5 seamlessly integrates with Acrentis Learning's digital learning solution
Organization use the AG5 integration to identify skills gaps and schedule training for the right employees, at the right time
Employees attend training based on what they need – and what is important to them
What are the benefits of Acrentis Learning and AG5?
Maintain an easy overview of skills and professional development in your organization
Identify skills gaps and predict those that may appear in the future
Schedule the right training at the right time, so your employees stays current, knowledgeable, and ready for work
Use AG5 to identify skill gaps
Say goodbye to Excel matrices. Start using AG5's plug and play skill matrix software.

ISO27001 certified

Free trial available
---
---