Template vaardighedenmatrix public relations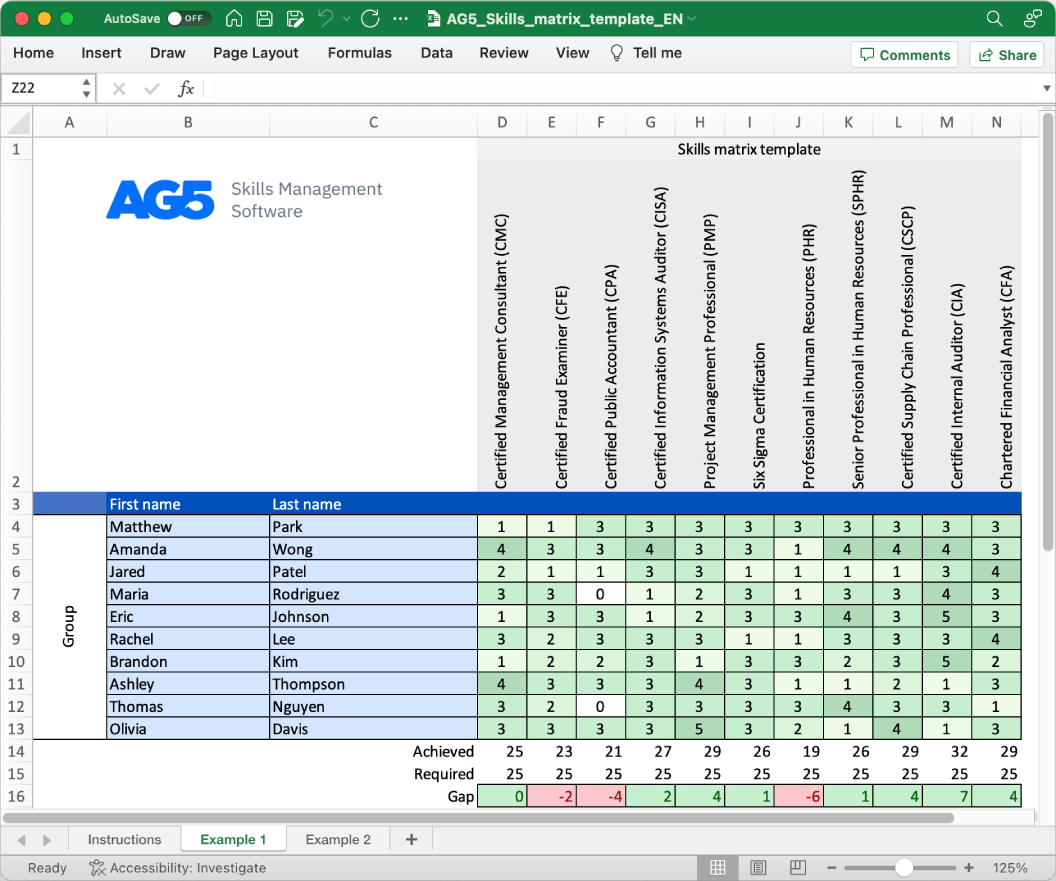 Download de gratis template
Overzicht
Met onze gratis matrixtemplate voor vaardigheden in PR krijg je een duidelijk overzicht van de vaardigheden die aanwezig zijn in je organisatie, maar ook van de vaardigheden die ontbreken. Met behulp van deze informatie kun je een plan ontwikkelen en implementeren om ervoor te zorgen dat de vaardigheden van je werknemers up-to-date, compleet en compliant zijn en klaar voor de toekomst.
Accredited in Public Relations (APR), Geaccrediteerd in Public Relations
Certified Public Relations Counselor (CPRC), Gecertificeerd adviseur public relations
Digital Marketing Certification (DMC), Digitale marketingcertificering
Measurement and Evaluation Certificate (MEC), Meet- en evaluatiecertificaat
Social Media Management Certification (SMMC), Certificering voor beheer van sociale media
Content Marketing Certification (CMC), Contentmarketingcertificering
Inbound Marketing Certification (IMC), Inbound Marketing Certificering (IMC)
Hubspot Email Marketing Certification, Hubspot Certificering E-mailmarketing
Google Analytics-certificering
Hootsuite-certificering voor sociale media marketing
PRSA-certificaat digitale communicatie
CPRC-certificering in crisismanagement
Certified Communications Professional (CCP), Gecertificeerd Communicatieprofessional
Certified in Crisis Management (CCM), Gecertificeerd in Crisismanagement
Certified Strategic Communication Management Professional (CSCMP), Gecertificeerd strategisch communicatiemanagement professional
Certified Government Communication Professional (CGCP), Gecertificeerd overheidscommunicatieprofessional
Accreditation in Internal Communication (AIC), Accreditatie in Interne Communicatie
Certified in Reputation Management (CRM, gecertificeerd in reputatiemanagement)
Certified Social Media Strategist (CSMS), Gecertificeerd sociaal mediastrateeg
Certified Public Affairs Specialist (CPAS), Gecertificeerd specialist publieke zaken
Gerelateerde vaardigheden
Schriftelijke vaardigheden en communicatie: Schrijf- en communicatievaardigheden zijn essentieel voor het produceren van persberichten, toespraken en andere inhoud in public relations. De APR-certificering (Accreditation in Public Relations) van de Public Relations Society of America (PRSA) kan schrijf- en communicatievaardigheden aantonen.
Mediarelaties: Vaardigheden in mediarelaties zijn belangrijk voor het beheren van relaties met journalisten en het verkrijgen van positieve media-aandacht. De certificering Certified Public Relations Specialist (CPRS) van de National Association of Communication Professionals in Higher Education (NACPH) kan de vaardigheden op het gebied van mediarelaties aantonen.
Crisismanagement: Crisismanagementvaardigheden zijn belangrijk voor het omgaan met negatieve gebeurtenissen of problemen die de reputatie van een bedrijf kunnen schaden. De Crisis Communication Certification van de International Association of Business Communicators (IABC) kan vaardigheden in crisismanagement aantonen.
E-commerce en digitale marketing: Digitale marketingvaardigheden zijn belangrijk voor het promoten van merken en het beheren van online reputaties. De Digital Marketing Certification van de American Marketing Association (AMA) kan digitale marketingvaardigheden aantonen.
Strategische planning Strategische planningsvaardigheden zijn belangrijk voor het ontwikkelen en implementeren van effectieve public relations strategieën. De SCMP-certificering (Strategic Communication Management Professional) van de Global Communication Certification Council (GCCC) kan strategische planningsvaardigheden aantonen.
Voordelen
Software voor competentiemanagement kan PR-dienstverleners helpen bij het identificeren en bijhouden van de vaardigheden van werknemers, het faciliteren van gerichte training en ontwikkeling en het verbeteren van de algehele productiviteit en efficiëntie van het personeel.
Klaar om vaardighedenmanagement onder de knie te krijgen?
Vraag een live demo aan van de enige plug and play Skills Management Software