Public relations skills matrix template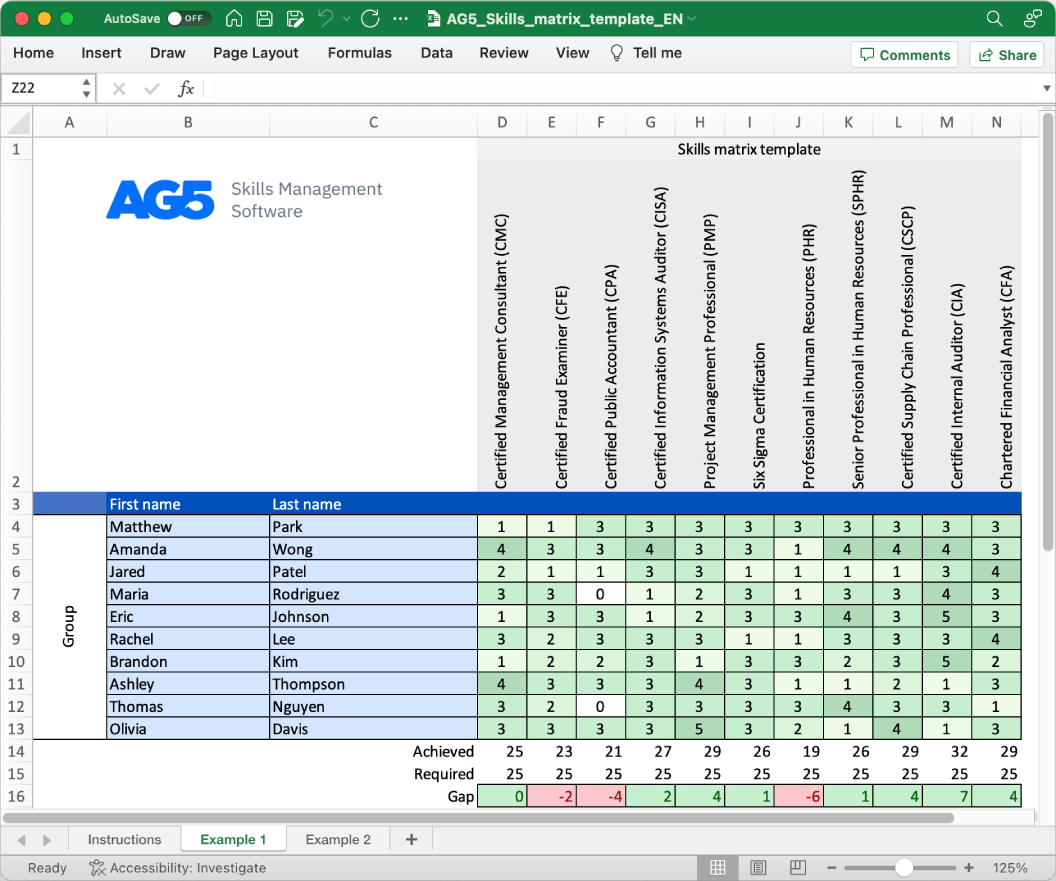 Download your free template here
Overview
With our free public relations skills matrix template, you will receive a clear overview of the skills that are present in your organization, as well as those that are missing. Using this information, you can develop and implement a plan to ensure that your employees' skills are up to date, comprehensive, compliant, and ready for the future.
Accredited in Public Relations (APR)
Certified Public Relations Counselor (CPRC)
Digital Marketing Certification (DMC)
Measurement and Evaluation Certificate (MEC)
Social Media Management Certification (SMMC)
Content Marketing Certification (CMC)
Inbound Marketing Certification (IMC)
Hubspot Email Marketing Certification
Google Analytics Certification
Hootsuite Social Media Marketing Certification
PRSA Digital Communications Certificate
CPRC Certification in Crisis Management
Certified Communications Professional (CCP)
Certified in Crisis Management (CCM)
Certified Strategic Communication Management Professional (CSCMP)
Certified Government Communication Professional (CGCP)
Accreditation in Internal Communication (AIC)
Certified in Reputation Management (CRM)
Certified Social Media Strategist (CSMS)
Certified Public Affairs Specialist (CPAS)
Related skills
Writing and communication skills: Writing and communication skills are essential for producing press releases, speeches, and other content in public relations. The Accreditation in Public Relations (APR) certification from the Public Relations Society of America (PRSA) can prove writing and communication skills.
Media relations: Media relations skills are important for managing relationships with journalists and securing positive media coverage. The Certified Public Relations Specialist (CPRS) certification from the National Association of Communication Professionals in Higher Education (NACPH) can prove media relations skills.
Crisis management: Crisis management skills are important for handling negative events or issues that could harm a company's reputation. The Crisis Communication Certification from the International Association of Business Communicators (IABC) can prove crisis management skills.
Digital marketing: Digital marketing skills are important for promoting brands and managing online reputations. The Digital Marketing Certification from the American Marketing Association (AMA) can prove digital marketing skills.
Strategic planning: Strategic planning skills are important for developing and implementing effective public relations strategies. The Strategic Communication Management Professional (SCMP) certification from the Global Communication Certification Council (GCCC) can prove strategic planning skills.
Benefits
Skills management software can benefit the public relations industry by helping to track employee skillsets, facilitating targeted training and development, improving collaboration among team members, and ensuring compliance with regulatory requirements.