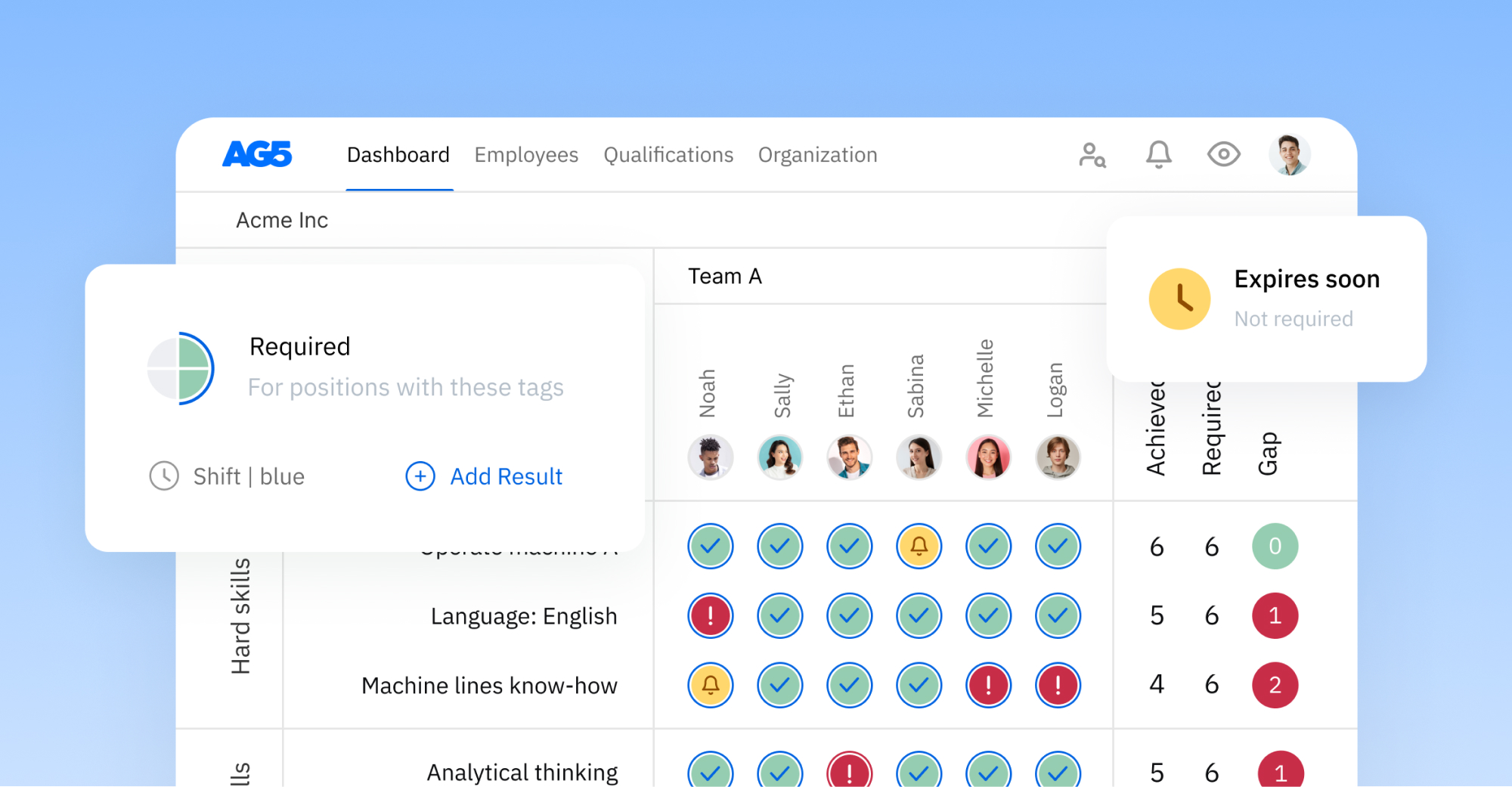 The skills gap in the US workforce has reached a critical point, with 69% of HR professionals surveyed in Wiley's annual "Closing the Skills Gap" report stating that they are aware of skills gaps in their companies.
This shortage of workers with the necessary skills is leading to staffing challenges and the need for companies to re-skill their employees. The report found that companies need help attracting and retaining workers with the skills they need to fill open positions. This creates a challenge for companies looking to meet their staffing needs and stay competitive in the marketplace.
Companies must adopt a proactive approach to workforce development to address the skills gap. A critical tool that can help is a skills matrix, a visual representation of an organization's employees and their current and desired skills. Let's have a look at how to create a skills matrix.
Create your skills matrix
A skills matrix is a powerful tool that helps you quickly and easily assess your staff's abilities, qualifications, and certifications.
It allows you to identify which employees have the required skills to meet specific tasks or objectives and any areas where training may be necessary.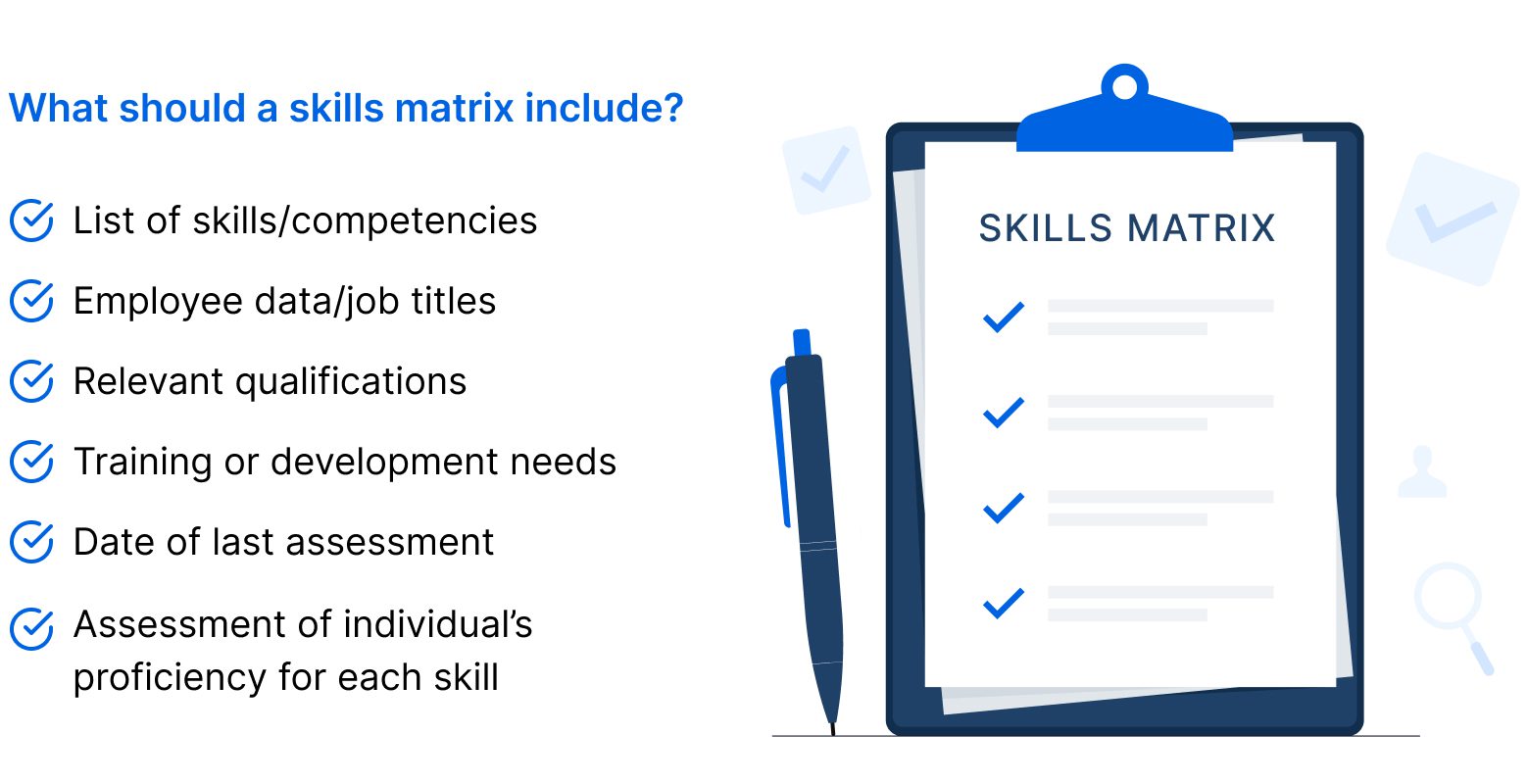 Here are what elements should be included in your skills matrix:
List of skills/competencies
A skills matrix starts with an organized list of all the relevant skills, competencies, and qualifications needed within your organization. The list should also include the certifications or qualifications that may apply to specific jobs or roles.
Employee data/job titles
Assign each employee's name or job title to the matrix. This way, you can get a clear overview of which employees possess the necessary skills and certifications for each role.
The aim here is to create an up-to-date view of your organization's capabilities so that you can make informed decisions about whom best to assign particular tasks or objectives.
Assessment of individual's proficiency for each skill
Start assessing individual proficiencies for each skill on a scale from one to five (with one being "no knowledge" and five being "expert level"). This will help you determine who has the right expertise and experience for specific roles within your organization. It also gives you insight into where additional training may be needed to achieve organizational goals more quickly and efficiently.
Training or development needs
The assessment process should also highlight areas where further training or development might benefit individuals or teams.
For example, suppose someone has already been assessed at a three, but could benefit from additional knowledge to progress further. This could be noted on their profile so that they can work towards achieving higher levels of proficiency.
Relevant certifications or qualifications
Ensure that all relevant certifications or qualifications are up to date for each employee listed on the matrix. This will assure you that everyone is adequately qualified for their positions. It also enables you to identify gaps in knowledge ahead of time, so they can be addressed swiftly – and without compromising quality standards.
Date of last assessment
Once all information has been gathered and added to the matrix, regular reviews must be conducted to ensure accuracy in individual assessments and overall data integrity across your teams' profiles. This helps track how far someone has progressed since their last assessment, ensuring that everyone keeps up with their professional development goals.
The data from this matrix can also provide valuable insights into staff performance levels, which can then inform decisions about future staffing requirements and potential promotion opportunities within the organization.
However, manually creating and maintaining a skills matrix using a spreadsheet like Excel can be time-consuming, error-prone, and impractical, especially if you need to manage skills data for hundreds or thousands of employees.
The future of skills management
A comprehensive skills matrix helps organizations stay organized by providing an overview of everyone's abilities, qualifications, certifications, and training needs – allowing employers to make informed decisions about assigning roles.
Skills matrix software is the preferred solution for organizations that want to implement a skills matrix efficiently. It provides a visual representation of an individual's skill levels, which makes it a powerful tool to conduct skills assessments and skills gap analysis.
Software solutions for skills management offer many benefits compared to traditional spreadsheets. Skills matrix software helps businesses to stay ahead of the curve in terms of talent management.
Five key benefits of using skills matrix software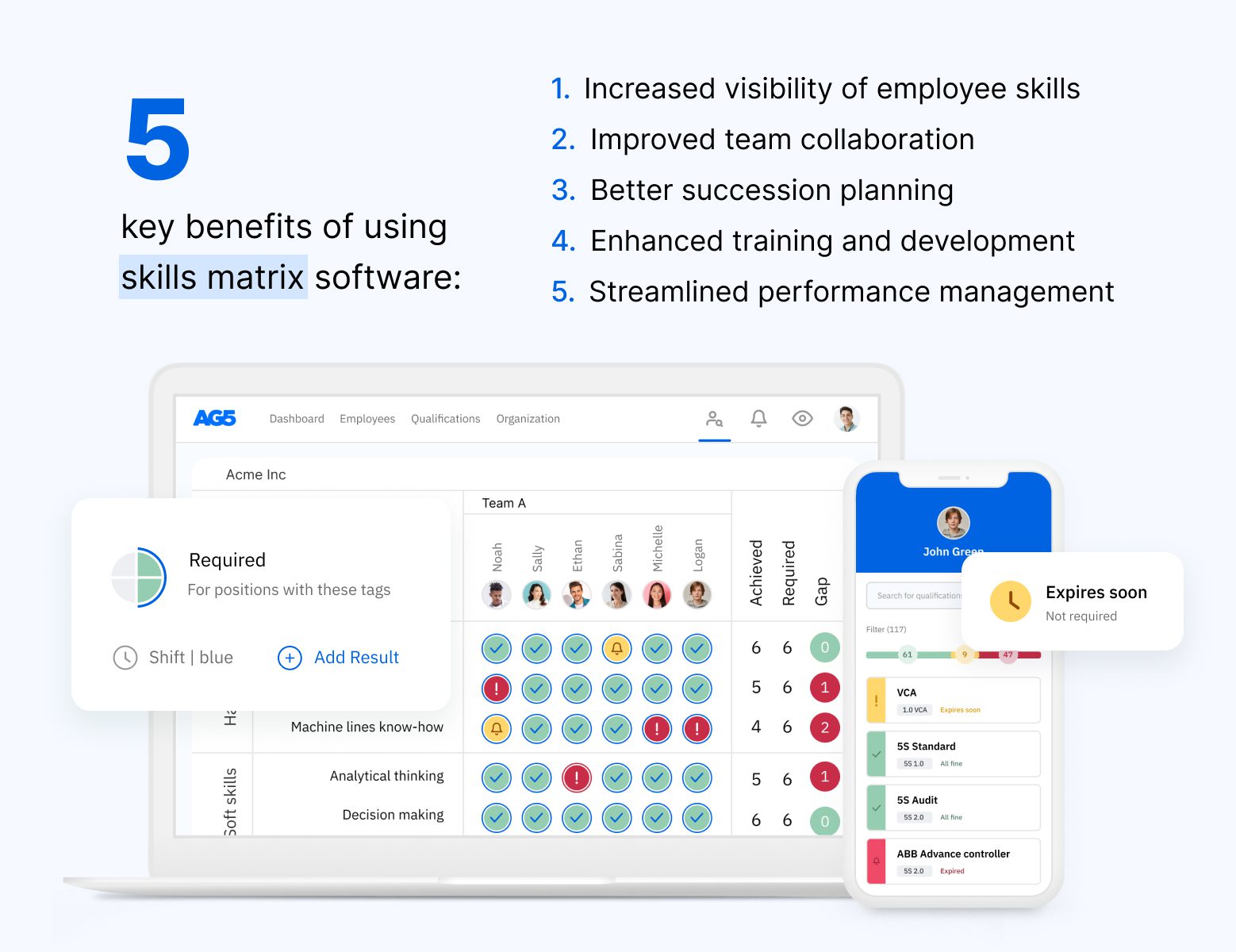 Increased visibility of employee skills. Skills matrix software provides a clear overview of the skills, expertise, and experience of each employee, making it easier for managers to identify skill gaps and assign tasks accordingly.
Improved team collaboration. Skills matrix software enables team members to collaborate effectively and share their skills, which helps ensure that everyone is contributing their best and working towards the same goals.
Better succession planning. With a clear overview of the skills and experience of each employee, managers can plan for the future and identify potential successors for key positions.
Enhanced training and development. The software helps managers to identify areas where employees need additional training and support, and to develop tailored training plans to meet their needs.
Streamlined performance management. Skills matrix software provides a consistent and systematic approach to performance management, making it easier to monitor progress and identify areas for improvement.
AG5 skills matrix software
AG5's skills matrix is a software tool that tracks and manages employees' skills and competencies within an organization. It helps align employee skills with company goals and job requirements, providing a clear understanding of the capabilities of each employee.
The software can also be used for performance evaluations, identifying skill gaps, and tracking training and development programs.
Schedule your free demo today to learn more about how AG5 skills matrix software can help you manage your workforce!
---
---