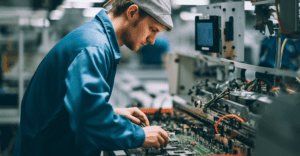 Surface Mount Technology (SMT) manufacturing is a method for constructing electronic circuits in which components are mounted or placed directly onto the surface of printed circuit boards (PCBs).1 In this article, we'll take a look at the process, its benefits, factors that influence the SMT market – and, of course, how skills management can help improve SMT manufacturing processes.
What is SMT manufacturing?
SMT manufacturing has largely replaced through-hole technology, in which components are inserted into holes drilled in the PCB. It's also become a fundamental part of the semiconductor industry's assembly and production processes. According to market analysis, the SMT market is predicted to grow from USD $5.7 billion in 2023 to $8.24 billion by 2028.2
Here's a bit of insight as to why:
SMT eliminates the need for holes to be drilled into PCBs, saving space and enabling the production of smaller electronic devices
SMT components can be placed on both sides of a PCB, and be placed closer together, meaning it is possible to create more compact and densely populated circuits
SMT is compatible with automated assembly processes, which are more precise and efficient compared to manual assembly
SMT results in the connections between components becoming shorter and more direct, better enabling higher-speed processing and communication in electronic devices.
What factors are influencing the SMT market?
The predicted dramatic growth of the SMT market in the near future is due to myriad factors, but several of them play more prominent roles. They include the following.
Automation and robotics
Because SMT manufacturing can be used in automated production processes, the integration of advanced automation and robotics technologies in SMT assembly lines enables higher precision, faster production rates, and improved quality control, leading to enhanced overall manufacturing efficiency.
Miniaturization of electronic devices
The increasing demand – on both a consumer and commercial level – for smaller and more powerful electronic devices requires increasingly precise and intricate components and manufacturing processes, such as those used in SMT manufacturing.
Electric vehicles
Research from the European Free Trade Association showed a 57.4% jump in new electric vehicle registrations in the first quarter of 2020.3 As the motors of electric cars heavily rely on PCBs, the demand for SMT is expected to continue to rise.
How skills management can help navigate the SMT industry's challenges
Despite a highly positive outlook for the SMT market, the industry nevertheless faces challenges that hold the potential to delay or stall production.
The right skills management software, however, can play a critical role in helping organizations navigate them, providing a clear overview of the skills necessary to ensure smooth SMT manufacturing processes – thus ensuring that skills gaps are easily identified and closed before they become an issue.
Let's take a look at a few of the most prominent challenges facing the SMT industry, as well as how proper skills management might help an organization through them.
Supply chain challenges
Disruptions in the global supply chain, including shortages of raw materials, electronic components, and semiconductor chips, have significantly impacted SMT manufacturing, leading to production delays and increased costs.
Here, skills management could help an organization track and maintain certifications critical to managing the supply chain. They include – but are not limited to – the following.
Certified Supply Chain Professional (CSCP). Offered by APICS 4, a CSCP certification validates professionals' expertise in supply chain management, including areas such as supplier and customer relations, international trade, and logistics. AG5 offers a free certification guide for CSCP certifications.
Certified Professional in Supply Management (CPSM). The Institute for Supply Management (ISM)'s 5 CPSM certification demonstrates proficiency in strategic sourcing, negotiation, supplier relationship management, and supply chain planning.
SCPro certification. Offered by the Council of Supply Chain Management Professionals (CSCMP) 6, the SCPro certification program assesses professionals' end-to-end supply chain knowledge, including areas such as supply chain concepts, analysis, and design.
Certified Warehouse Logistics Professional (CWLP)​. Offered by the International Warehouse Logistics Association (IWLA) 7, the CWLP demonstrates proficiency in warehouse management, distribution operations, and inventory control, essential for effective supply chain management.
Environmental regulations
As environmental concerns continue to gain prominence, the SMT market is under increasing pressure to adopt sustainable manufacturing practices and comply with stringent environmental regulations. This includes reducing the use of hazardous materials, minimizing electronic waste generation, and implementing energy-efficient manufacturing processes.
Here, you can use skills management software to track the statuses of a wide range of qualifications and certifications related to environmental compliance. These might include the following.
ISO 14001 certification. ISO's 8 globally recognized certification demonstrates a company's commitment to implementing and maintaining an effective environmental management system, including practices for reducing environmental impact and complying with relevant regulations. AG5 offers a free certification guide for ISO 14001 certifications.
Certified Energy Manager (CEM). Offered by the Association of Energy Engineers (AEE) 9, A CEM certification validates professionals' expertise in managing energy efficiency programs, implementing sustainable energy solutions, and ensuring compliance with environmental regulations.
Certified Hazardous Materials Manager (CHMM). Provided by the Institute of Hazardous Materials Management (IHMM) 10, this certification demonstrates proficiency in managing hazardous materials, including their safe handling, storage, transportation, and disposal, essential for ensuring compliance with environmental regulations.
OSHA 30-Hour General Industry Certification. While not specific to environmental compliance, an OSHA 11 general industry certification demonstrates knowledge of workplace safety and health regulations, which are essential for ensuring a safe and compliant work environment in the context of environmental regulations.
Skilled labor shortage
The SMT industry requires skilled technicians and engineers with expertise in operating advanced manufacturing equipment and handling complex assembly processes. Addressing the shortage of skilled labor in the manufacturing industry and investing in workforce development and training programs are essential for sustaining growth and innovation within the industry.
Skills management software plays an especially key role here, helping you monitor certification statues, training needs, and other important skills related to SMT manufacturing. Certifications that prove especially valuable here include the following.
IPC-A-610 certification. The IPC12 is a global trade association for the production and assembly requirements of electronics. The IPC-A-610 certification focuses on the acceptability criteria for electronic assemblies, covering topics such as component installation, soldering criteria, and surface mounting criteria. It is highly valued in the electronics manufacturing industry.
IPC J-STD-001 certification. Focuses on the requirements for soldered electrical and electronic assemblies. It covers soldering materials and processes, including surface mount and through-hole technologies, as well as the handling of electronic components.
IPC-7711/7721 certification. A certification related to the repair and rework of electronic assemblies. It covers the best practices and techniques for reworking and repairing printed circuit board assemblies, including both surface mount and through-hole components.
J-STD-020 certification. The JEDEC Solid State Technology Association's 13 J-STD-020  certification focuses on the requirements for moisture and reflow sensitivity classification in surface mount devices (SMDs). An SMD refers to an individual component that is mounted during an SMT manufacturing process. A J-STD-020 certification is particularly important for ensuring the reliability of SMDs during the manufacturing and assembly processes.
Get started with your skills management strategy for SMT manufacturing
Are you ready to get started streamlining your SMT manufacturing processes and ensuring compliance and safety along the way? Book a free, live, 15-minute demo with AG5 today for a front-row seat!
Additionally, we also provide free certification guides – such as those linked in the above section – and Excel skills matrix templates, such as these for the semiconductor industry and manufacturing industry. You can use them to effectively manage and assess the skills and certification statuses of individual employees or teams before fully onboarding to AG5.
---
---
---