Leadership and team development skills matrix template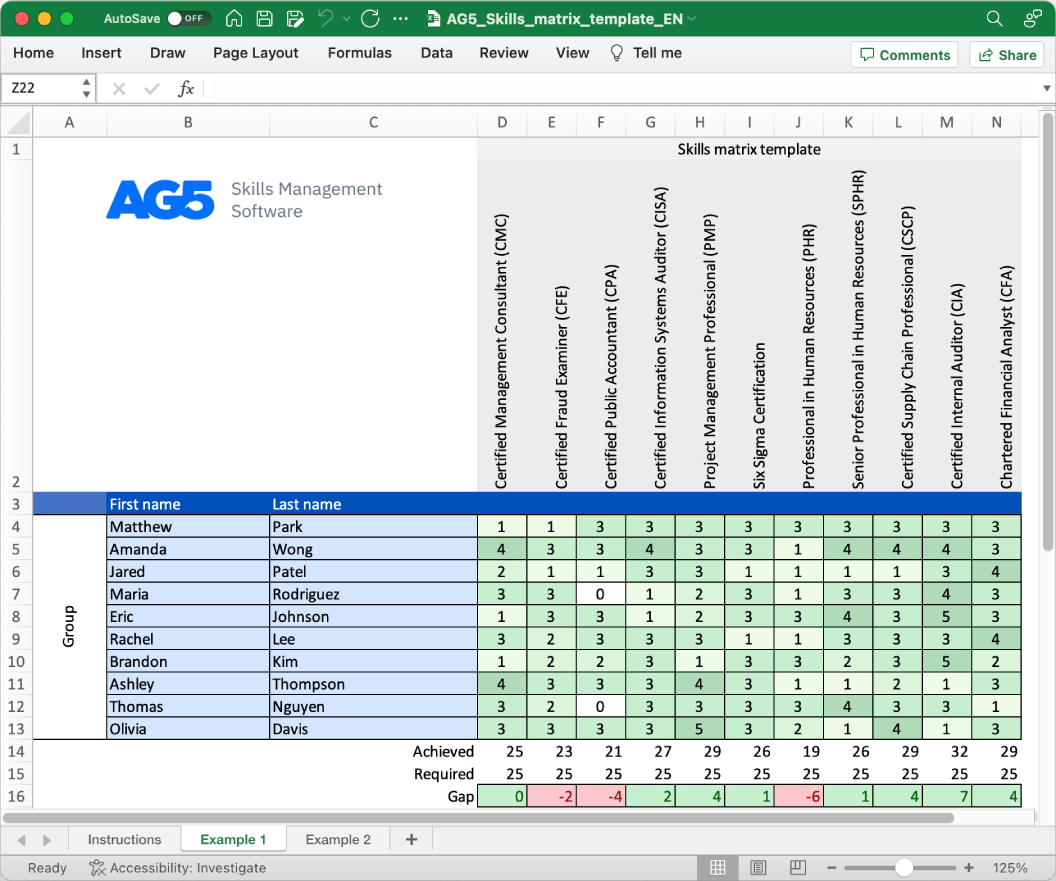 Download your free template here
Overview
With our free leadership and team development skills matrix template, you will receive a clear overview of the skills that are present in your organization, as well as those that are missing. Using this information, you can develop and implement a plan to ensure that your employees' skills are up to date, comprehensive, compliant, and ready for the future.
Certified Leadership and Management Professional (CLMP)
Certified Team Leader (CTL)
Certified Leadership Coach (CLC)
Certified Team Development Specialist (CTDS)
Certified Leadership Facilitator (CLF)
Certified Team Building Facilitator (CTBF)
Certified Leadership Development Practitioner (CLDP)
Certified Team Performance Coach (CTPC)
Certified Leadership Trainer (CLT)
Certified Team Effectiveness Consultant (CTEC)
Certified Leadership Strategist (CLS)
Certified Team Dynamics Specialist (CTDS)
Certified Leadership and Team Performance Specialist (CLTPS)
Certified Team Leadership Coach (CTLC)
Certified Leadership and Organizational Development Consultant (CLODC)
Certified Team Collaboration Facilitator (CTCF)
Certified Leadership Development Coach (CLDC)
Certified Team Transformation Specialist (CTTS)
Certified Leadership Mentor (CLM)
Certified Team Engagement Expert (CTEE)
Related skills
Effective Communication: Excelling in clear and inspirational communication to guide and motivate teams, a skill recognized by the Certified Communication Leadership Professional (CCLP) certification.
Conflict Resolution: Skillfully mediating and resolving conflicts within teams, demonstrating proficiency attested by the Certified Conflict Resolution Facilitator (CCRF) certification.
Strategic Planning: Developing strategic plans and initiatives that align with organizational goals and foster team growth, an ability showcased by the Certified Strategic Leadership Planner (CSLP) certification.
Coaching and Mentoring: Expertly coaching and mentoring team members to enhance their skills and professional development, a capability validated through the Certified Team Coaching Specialist (CTCS) certification.
Performance Management: Effectively managing team performance and providing constructive feedback, qualities acknowledged by the Certified Team Performance Manager (CTPM) certification.
Benefits
Skills management software cultivates leadership, communication, and collaboration skills, fostering team growth and driving organizational success.
Ready to master skills management?
Get a personalized walkthrough of AG5 from one of our product experts in just 15 minutes.
ISO27001 certified Free trial available