Law enforcement skills matrix template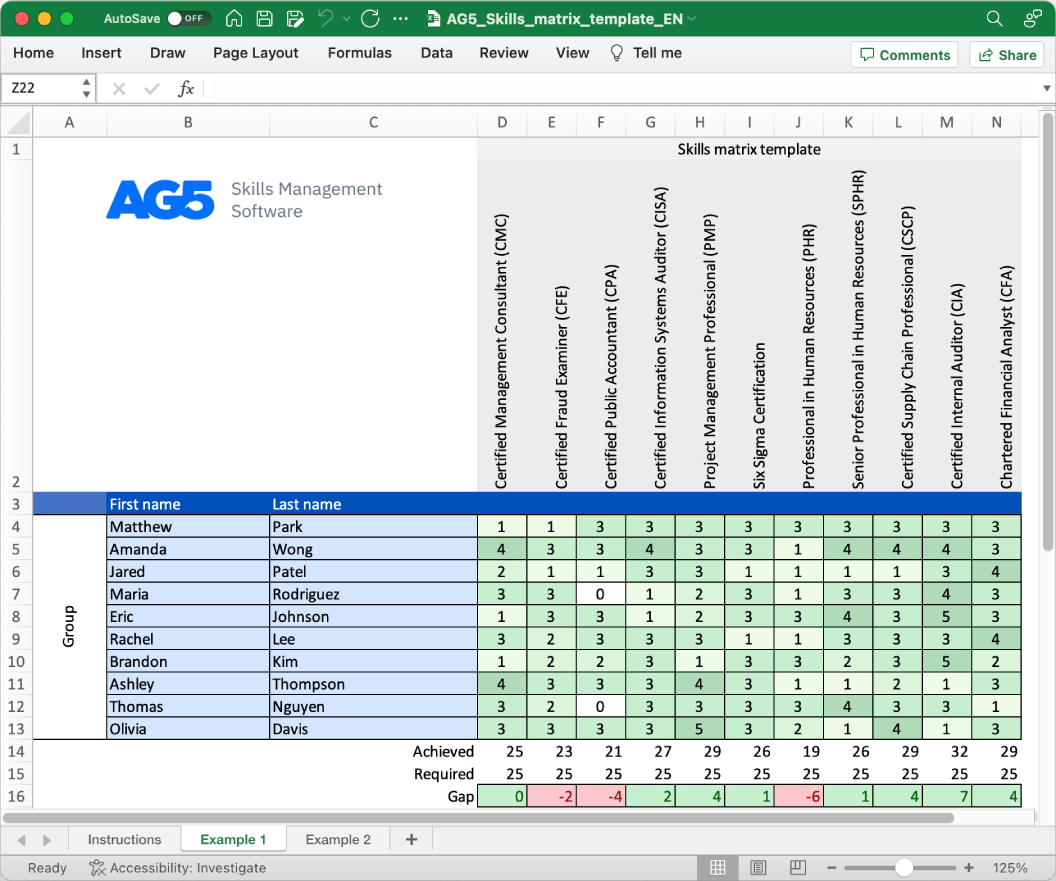 Download your free template here
Overview
With our free law enforcement skills matrix template, you will receive a clear overview of the skills that are present in your organization, as well as those that are missing. Using this information, you can develop and implement a plan to ensure that your employees' skills are up to date, comprehensive, compliant, and ready for the future.
Law Enforcement Officer certification
Police Officer certification
Sheriff certification
Firefighter certification
EMT certification
Paramedic certification
Criminal Investigator certification
Crime Scene Investigator certification
Forensic Scientist certification
Homeland Security certification
Federal Law Enforcement Training Centers (FLETC) certification
FBI National Academy certification
Criminal Justice certification
Law Enforcement Tactical certification
Drug Recognition Expert (DRE) certification
Hostage Negotiator certification
Police Leadership certification
Crisis Intervention certification
Cybercrime certification
Court Security Officer certification
Related skills
Critical thinking: The ability to analyze complex situations and make informed decisions quickly. Certifications that prove critical thinking skills include the Certified Fraud Examiner (CFE) and the Certified Protection Professional (CPP).
Communication: The ability to communicate effectively with different groups of people, including victims, witnesses, and suspects. Certifications that prove communication skills include the International Association of Chiefs of Police (IACP) Communication Skills Certificate and the National Tactical Officers Association (NTOA) Communication Certificate.
Leadership: The ability to lead and manage teams effectively. Certifications that prove leadership skills include the FBI Law Enforcement Executive Development Association (LEEDA) Trilogy and the National Sheriffs' Association (NSA) Executive Leadership Program.
Conflict resolution: The ability to resolve conflicts and de-escalate potentially violent situations. Certifications that prove conflict resolution skills include the National Institute of Justice (NIJ) Conflict Resolution Certificate and the International Association of Campus Law Enforcement Administrators (IACLEA) De-escalation Certificate.
Technology proficiency: The ability to use and adapt to new technologies to enhance law enforcement operations. Certifications that prove technology proficiency skills include the National Computer Forensics Institute (NCFI) Digital Forensics Certification and the National White Collar Crime Center (NW3C) Cybercrime Investigation Certification.
Benefits
Skills management software helps law enforcement organizations track employee certifications and training, ensuring they have the skills and knowledge to keep communities safe.