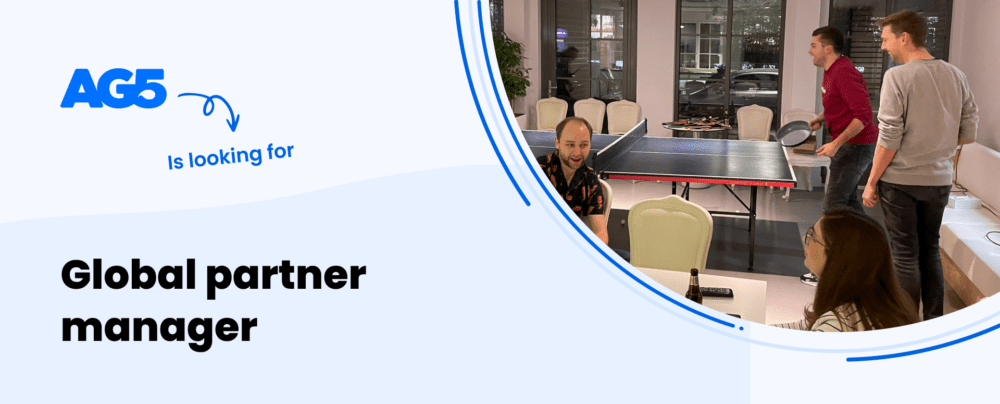 Would you like your next step in your sales career to be focused on building a partner channel? Meaning you get to use all your people skills, creativity and growth mindset to start a successful new source of leads for a B2B SaaS company where you can grow as a professional?
Job Description
We are in search of an experienced partner manager for AG5. Your main responsibility is to grow existing, and find new channel partnerships. With the goal to land new qualified opportunities for the sales team.  This role is crucial in driving success for AG5. The partner channel will be a relatively new source of sales opportunities, and our research shows that we have untapped potential in this area. We currently have 28 technical partners (solutions we integrate with), all of these partners are a great starting point for building our partnership ecosystem.
You are able to "sell" the value of partnering with AG5, build relationships with the front-line sellers of our partners and set the roadmap to make sure everybody gains from the partnership.
Collaborating as a team, we will work together to make sure our shared clients reach fast time-to-value with the AG5 solution and from there build a growth plan. You will report to the CRO and are part of the growing sales team.
Key Responsibilities:
Hit your goals by:
Growing & finding channel partners
Strategically plan an annual calendar of events with our partners
Training & enablement of partners
Provide proactive stakeholder management
Drive partner marketing efforts
Being innovative with how we engage with partners, bring value in every touchpoint
Who are we looking for: 
5 years of B2B Saas experience, in commercial roles
Experience in setting up a channel partnership
Native English speaker
Experience working with or for SAP is a plus
If you have previously worked in a company selling in to large industrial manufacturers, that's a plus
Individuals who are self-motivated, can manage themselves effectively, and take ownership of their work
Msc degree in business or related field
About AG5
At AG5, you'll find a welcoming and open work culture that encourages personal growth and development. The company offers a variety of perks to make sure employees feel comfortable and supported, including a fresh and healthy lunch option, the ability to customize your personal workspace, and the flexibility to work from home. In terms of compensation, you can expect a competitive salary above industry standards.
Additionally, AG5 encourages continuous learning and professional development, with opportunities to learn on the job and flexible working hours. We also have fun team-building activities, an annual company outing, pension fund, benefits such as a full-time employment contract, and 25 days off per year.