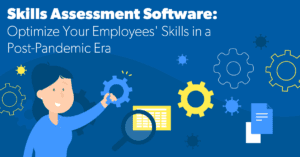 The aftermath of COVID-19 has turned the world of work upside down. It has disrupted businesses, tanked economies, and dramatically changed traditional working models. According to Pew Research, nearly 4.5 million people resigned from their jobs in February 2022. Employees are not hesitant to leave if they're unhappy in their current roles. As a result, having a robust skills assessment strategy is more critical than ever. This article outlines some of the key benefits of skills assessments software and how skills tools can help your business adapt and thrive in today's environment.
What is a skills assessment tool?
Skills assessment software enables businesses to identify, assess, and track their employees' skills.
Businesses can clearly understand their organizations' skills gaps by using data gathered from job descriptions, employee feedback, performance reviews, and other sources.
This information is essential for training and development programs and succession planning.
Several skills assessment tools are available, each with unique features and advantages.
However, all skills assessment platforms share one common goal: to help businesses identify the skills they need to succeed.
Why it is more critical than ever in a post-pandemic world?
The COVID-19 pandemic has forever changed the world of work. As a result, businesses must adapt and transform their operations.
Therefore, a skills assessment software is more critical than ever for the following reasons:
Lockdowns have accelerated the trend toward automation and digitalization. Therefore, many jobs previously performed by humans can now be accomplished by machines or computer software. As a result, the skills required to perform those jobs are evolving. To stay ahead of the curve, employers must continuously assess their employees' abilities to determine whether they need to be retrained or upskilled.
The workforce is experiencing a growing skills gap influenced by several factors, including a lack of qualified replacements for retiring baby boomers and the changing nature of work. However, as technology becomes increasingly important, businesses need employees who are comfortable using new technologies and applications.
Lockdowns have placed many businesses in an uncertain economic environment, causing many to be more cautious about their hiring and training costs. A skills assessment helps organizations identify the most cost-effective way to upskill their workforce.
A skills assessment software helps you identify your training and development needs. Plus, it can help determine the areas in which your employees require additional training, which is essential in a post-pandemic world where businesses face uncertain futures.
What are the pros of skills assessment?
Skills assessment software helps you identify skills gaps and map the abilities required for specific roles.
It allows businesses to assess workers' qualifications for a specific job.
It helps companies improve their employee retention rates through its self-assessment component. Afterward, employees can easily complete self-assessments, and you can both review the results.
It helps businesses identify employee training and development needs.
It saves you time and money and removes the need to use unmanageable Excel spreadsheets. As a result, you will save on training and development costs, allowing you to train the right employee in the appropriate skills.
AG5 skills management software
AG5 software is a cloud-based solution that helps businesses assess, track, and develop their employees' skills.
Furthermore, it includes several features such as predictive gap analysis and forecasting, requesting self-assessments, an expert finder, and a skills library.
AG5 skills management software is available in various price plans and offers a free demo.
---
---